Vendor Portal Access
The Cornell Lab now has a self-service Vendor Portal where institutional customers can update their contact information, examine their IPs, and download usage stats.
Managing the portal requires your library to have a Cornell Lab of Ornithology account. Your institution was assigned an account when you subscribed; by following the instructions below, you will take control of that account and use it to access account-level details.
STEP 1: Go to birdsoftheworld.org
Either click the blue SIGN IN button or, if you are VPNed into the library resource center, hover over the user icon at the upper part of the screen. Click Sign in as different user.
STEP 2: Confirm your library's credentials.
You'll need your institutional admin credentials. If your institution does not already have them, please contact support@birdsoftheworld.org to request your username.
USERNAME – this is your unique institutional username
INSTITUTIONAL ADMIN EMAIL – In most cases, this has been set to your general electronic resources email or the email of the primary billing contact at your institution.
If the email we set for you is inconvenient, please send us your preferred administrative email and if possible, make it a role-based mailbox (such as "erl" or "elib") to ward off any future succession problems.
PASSWORD –  Once you have the correct username/email with access to that email account, please click on SIGN IN and click Forget password? and reset the password.
Please document these credentials in multiple places. We won't retain access to your password.
STEP 3: Sign in as institutional admin.
Once you have your institutional admin credentials, sign in. When you are signed in as admin, you will see a link to the Vendor Portal. (When you are NOT signed in as admin, you will only see Sign in as different user, see images below).
Not logged in as admin:
Logged in as admin: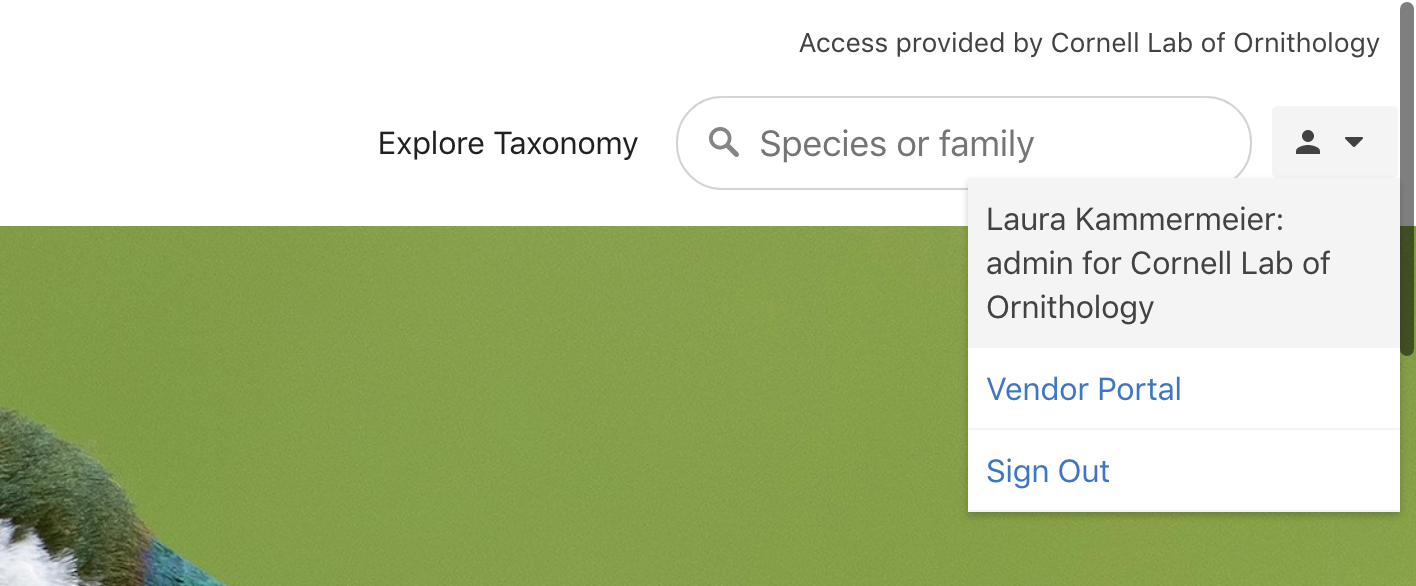 STEP 4: Review and manage details.
Once in the Vendor Portal, please review it carefully and make updates: Important: If you make any changes, please notify us so we can transfer that data to our CRM.
Click Manage your account or Invoicing Contact to update institutional details.
Confirm your IP ranges. If there are discrepancies, please send them to support@birdsoftheworld.org in a two-column .csv file (to help us avoid input errors, please do not use IP shorthand characters such as *).
STEP 5: Review your usage stats.
Usage stats are shown as page views of the site (excluding visits to the home page).
Please note that the portal only shows usage data for Birds of the World, which was launched 4 March 2020. We do not have stats earlier than 4 March 2020.
STEP 6: Set your preferred language for common names.
The Cornell Lab offers bird common names in 43 languages plus 35 regional dialects – that's 78 variations in all, including 15 versions for English, 15 for Spanish, and 6 for French.
If your team would like the common names of birds to be shown to ALL of your users in languages or spellings other than American English, please read this article. This would make it easier for your patrons to find species on the website – though bear in mind the species account content will remain in English. The language variations (such as English, HBW or English, Australia) provide preferential spelling for words such as Grey vs. Gray in the common names.