SPECIES
Andean Tinamou
Nothoprocta pentlandii
Vitor Gomes and Guy M. Kirwan
Version: 1.0 — Published March 14, 2014
Distribution
Welcome to Birds of the World!
You are currently viewing one of the free accounts available in our complimentary tour of Birds of the World. In this courtesy review, you can access all the life history articles and the multimedia galleries associated with this account.
For complete access to all accounts, a subscription is required.
Already a subscriber? Sign in
Distribution in the Americas
Andean Tinamou is resident from southern Ecuador to south to Chile and to west central Argentina. The distribution of Andean Tinamou in Ecuador is centered on Loja, but it also occurs in adjacent Azuay, and probably also in El Oro (Ridgely and Greenfield 2001). Andean Tinamou is widespread in the western Andes of Peru, locally occurring as well near sea level in northwestern Peru, in central Peru (Lima)
and in southern Peru (Arequipa) (Fjeldså and Krabbe 1990, Schulenberg et al 2010). There also is a population in intermontane valleys in south central Peru (Fjeldså and Krabbe 1990, Schulenberg et al 2010). The status of Andean Tinamou in Chile is not clear. It only was reported from Chile as recently as 1948 in Arica, at which time it apparently was locally common (Johnson 1965), but it now is considered to be extremely rare, with no recent records (Jaramillo 2003). The distribution continues south through the Andes of Bolivia to west central Argentina in Mendoza and northern Neuquén.
The elevational distribution of Andean Tinamou in Ecuador is ca 1000-2300 m (Ridgely and Greenfield 2001); in Peru Andean Tinamou occurs locally at 200-900 m, and, more broadly, at 2000-3600 m (Schulenberg et al. 2010); and in Bolivia the elevational distribution is 1400-4300 m (Hennessey et al. 2003).
Distribution outside the Americas
Endemic to the Americas.
Andean Tinamou occupies a variety of open habitats. In Ecuador it primarily is found in "montane scrub, grassy clearings, and adjacent agricultural fields" (Ridgely and Greenfield 2001). Farther south in the Andes, this species occurs in arid montane scrub, often with coarse herbs (Lupinus, composite brush) or crops such as alfalfa and potatoes, columnar cacti, Jatropa, or other thorny scrub (Fjeldså and Krabbe 1990). Andean Tinamou also occurs at the edges of oatches humid montane forest and thickets in humid ravines in semiarid zones (such as bushy slopes with scattered Carica trees) (Fjeldså and Krabbe 1990). At one site in northwestern Argentina, the preferred habitats of Andean Tinamou were grasslands invaded by woody vegetation, and fallow fields (Mosa 2004). Where Andean Tinamou occurs at low elevations in northwestern Peru, the density increased with the slope of the terrain (Barrio 2004).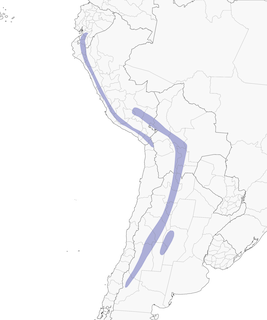 Recommended Citation
Gomes, V. and G. M. Kirwan (2014).
Andean Tinamou
(
Nothoprocta pentlandii
), version 1.0. In Neotropical Birds Online (T. S. Schulenberg, Editor). Cornell Lab of Ornithology, Ithaca, NY, USA.
https://doi.org/10.2173/nb.andtin1.01