Species names in all available languages
Species names in all available languages

| Language | Common name |
| --- | --- |
| Dutch | Gebandeerde Grondkoekoek |
| English (United States) | Banded Ground-Cuckoo |
| French | Géocoucou barré |
| German | Bindengrundkuckuck |
| Japanese | シマアメリカジカッコウ |
| Norwegian | båndjordgjøk |
| Polish | kukawka prążkowana |
| Russian | Полосатая земляная кукушка |
| Serbian | Tamna ljuskasta kukavica sa tla |
| Slovak | kukuľa hnedokrídla |
| Spanish | Cuco Hormiguero Escamoso |
| Spanish (Ecuador) | Cuco Hormiguero Bandeado |
| Spanish (Spain) | Cuco hormiguero escamoso |
| Swedish | bandmarkgök |
| Turkish | Yazılı Yer Guguğu |
SPECIES
Banded Ground-Cuckoo
Neomorphus radiolosus
Janice M. Hughes
Version: 1.0 — Published November 10, 2017
Distribution
Distribution in the Americas
Banded Ground-Cuckoo is endemic to the Chocó Ecóregion of the Pacific slope of the Western Andes, and it has been observed in southwestern Colombia (Risaralda, Valle, Cauca, and Nariño departments) and northwestern Ecuador (Esmeraldas, Imbabura, and Pichincha provinces; Haffer 1977, Hilty and Brown 1986, Hornbuckle 1997, Ridgely and Greenfield 2001, Martínez-Gómez et al. 2013, BirdLife International 2017).
The extent of this species' occurrence is approximately 58,000 km2 (BirdLife International 2017); however, Banded Ground-Cuckoo is rare and localized, and occurs at very low density throughout its distribution (López-Lanús et al. 1999). In addition, a considerable amount of suitable habitat within the region remains apparently unoccupied (BirdLife International 2107).
Banded Ground-Cuckoo occurs in several protected areas, including Los Farallones de Cali and Munchique National Parks and El Pangan Nature Reserve (Colombia), Cotacachi-Cayapas Ecological Reserve, Awacachi Biological Corridor, Protective Forest Los Cedros, Mache-Chindul Ecological Reserve, and Jatun Sacha Bilsa Biological Reserve (Ecuador). It is also found in Un Poco del Chocó private reserve in Ecuador (BirdLife International 2017).
Distribution outside the Americas
Endemic to South America. Non-migratory.
Humid primary forests. In the Western Cordillera of the Andes, Banded Ground-Cuckoo is found in wet tropical and very wet premontane and pluvial premontane forests with a mean rainfall of 6130 mm per year and average temperatures between 24 and 26°C (Martínez-Gómez et al. 2013).
Mostly foothills and lower slopes. It typically occurs at elevations between 700 and 1200 m (Bond and Meyer de Schauensee 1940, Hilty and Brown 1986). However, one individual was observed at 430 m in Risaralda Department, Colombia (Martínez-Gómez et al. 2013), and another as high as 1524 m in Gualea, Ecuador (Lönnberg and Rendahl 1922), although Ridgely and Greenfield (2001) suspect that this elevational record may be in error.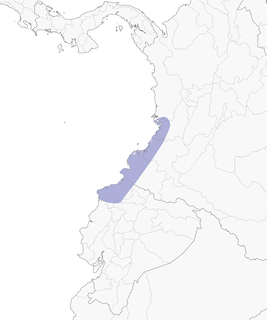 Recommended Citation
Hughes, J. M. (2017).
Banded Ground-Cuckoo
(
Neomorphus radiolosus
), version 1.0. In Neotropical Birds Online (T. S. Schulenberg, Editor). Cornell Lab of Ornithology, Ithaca, NY, USA.
https://doi.org/10.2173/nb.bagcuc1.01