Species names in all available languages
Species names in all available languages

| Language | Common name |
| --- | --- |
| Czech | lelek pruhokřídlý |
| Dutch | Vleugelbandnachtzwaluw |
| English | Band-winged Nightjar |
| English (United States) | Band-winged Nightjar |
| French | Engoulevent à miroir |
| French (French Guiana) | Engoulevent à miroir |
| German | Breitspiegel-Nachtschwalbe |
| Japanese | ハシナガヨタカ |
| Norwegian | glennenattravn |
| Polish | lelkowiec długodzioby |
| Portuguese (Brazil) | bacurau-da-telha/de-roraima |
| Portuguese (Portugal) | Bacurau-do-telhado |
| Russian | Полосатокрылый козодой |
| Serbian | Leganj grivnaš |
| Slovak | lelek zrkadlový |
| Spanish | Chotacabras Serrano |
| Spanish (Argentina) | Atajacaminos Ñañarca |
| Spanish (Chile) | Gallina ciega común |
| Spanish (Ecuador) | Chotacabras Alifajeado |
| Spanish (Paraguay) | Atajacaminos ñañarca |
| Spanish (Peru) | Chotacabras de Ala Bandeada |
| Spanish (Spain) | Chotacabras serrano |
| Spanish (Uruguay) | Dormilón Patagónico |
| Spanish (Venezuela) | Aguaitacamino Serrano |
| Swedish | bandvingad nattskärra |
| Turkish | Uzun Gagalı Çobanaldatan |
| Ukrainian | Дрімлюга довгодзьобий |
SPECIES
Band-winged Nightjar
Systellura longirostris
Sarah Crestol
Version: 1.0 — Published March 13, 2015
Distribution
Distribution in the Americas
Band-winged nightjar occurs widely in South America. This nightjar is resident in the tepui region of southern Venezuela and immediately adjacent Guyana. It also is resident in the coast ranges of northern Venezuela, and in the Andes from Venezuela south to Bolivia and northern Chile. Band-winged Nightjar occurs at lower elevations from central Chile and Argentina south to Patagonia. Most of these populations also are resident, but the southernmost populations are migratory, moving north in the nonbreeding season to northern Argentina and to Paraguay. Another resident population occurs at low elevations on the coast of Peru and northern Chile. Band-winged Nightjar also occurs from northeastern Argentina and Uruguay north to northeastern Brazil. This population is largely if not entirely resident; possibly the birds breeding in Argentina and southernmost Brazil are migratory. The confusion over the seasonality of the occurence of Band-winged Nightjar in some parts of its range is considerable. There seems to be little doubt but that Band-winged Nightjar is only a rare migrant to Paraguay (e.g. Hayes et al. 1994). Storer (1989) identifed seven specimens from Paraguay as nominate longirostris, whereas other authors have identified other specimens from Paraguay as bifasciata, and Holyoak (2001) in turn suggested that patagonica, not bifasciata, may be the relevant taxon. It is not clear whether both subspecies migrate to Paraguay, or whether some of these specimens are misidentified. For that matter, although there is a broad consensus that the southern populations of bifasciata are migratory, it is not clear whether suggestions that longirostris is partially migratory rest entirely on the specimens reported by Storer (1989), or whether there is independent evidence of its seasonal departure from parts of its range.
In the northern portion of its range, Band-winged Nightjar is confined to high elevations, e.g., from 900-3200 m in northern Venezuela and 1300-2300 m in the tepuis (Hilty 2003); from 1600-3600 m in Colombia (Hilty and Brown 1986); primarily 1800-3700 m in Ecuador (Ridgely and Greenfield 2001a); and from 1950-4400 m in the Andes of Peru (Schulenberg et al. 2010). Other populations are found at much lower elevations, such as on the coast of Peru and Chile, and in eastern South America.
Distribution outside the Americas
Endemic to the Americas.
Band-winged Nightjar occurs over a very wide latitudinal and elevational gradient, and so occupies a wide range of habitats across the different regions in its distribution. On the tepuis and in the northern Andes (subspecies roraimae and ruficervix), it occurs in grassy clearings, open slopes, along roadcuts, the edges of humid montane forest (especially along roads), and in paramos (Hilty and Brown 1986, Ridgely and Greenfield 2001a, Hilty 2003). Habitats occupied by Band-winged Nightjar in the Andes from Peru south are similar, but also include arid montane scrub. On the coast of Peru and northern Chile (decussata) it occurs in arid scrub and fields (Schulenberg et al. 2010), as well as in urban areas. In much of Chile and Argentina, Band-winged Nightjar occurs in scrub, forest edge, and fields. As is the case in Peru, Band-winged Nightjar has adopted to urban areas in eastern Brazil (Sick 1993, Ingels et al. 1999). It occurs in caatinga in northeastern Brazil (Grantsau 2008).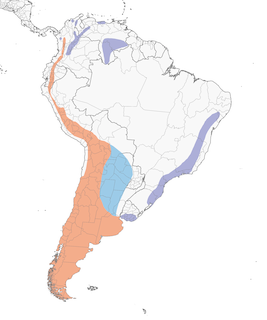 Recommended Citation
Crestol, S. (2015).
Band-winged Nightjar
(
Systellura longirostris
), version 1.0. In Neotropical Birds Online (T. S. Schulenberg, Editor). Cornell Lab of Ornithology, Ithaca, NY, USA.
https://doi.org/10.2173/nb.bawnig1.01