Black Skimmer
Rynchops niger
Kara L. Lefevre
Version: 1.0 — Published November 30, 2018
Welcome to Birds of the World!
You are currently viewing one of the free accounts available in our complimentary tour of Birds of the World. In this courtesy review, you can access all the life history articles and the multimedia galleries associated with this account.
For complete access to all accounts, a subscription is required.
Already a subscriber? Sign in
Black Skimmer is a widespread, fish-eating seabird that inhabits sandy shorelines in North, Central, and South America. Within the Gull and Tern family (Laridae), it belongs to the only genus of the unique subfamily Rynchopinae. Skimmers are gregarious animals, breeding in colonies that often include different species of terns, and gathering in large flocks during other parts of the annual cycle (Gochfeld and Burger 1994). Its association with other waterbird species makes Black Skimmer a useful indicator of coastal environments (Vieira et al. 2018).
This Neotropical Birds account focuses on the scant but growing knowledge of skimmers that reside in South America. New findings, such as insights about cross-mountain movements of Peruvian skimmers after the nesting season (Davenport et al. 2016), are opening up further questions about the factors that control the timing and patterns of bird breeding and migration. Indeed, this illustrates how our general understanding of ornithology is heavily biased by studies in the northern hemisphere, underscoring the importance of studying tropical birds.
Black Skimmer is notable for many unique features of its appearance and behavior, including its colorful asymmetrical bill and distinctive habit of flying low across the water's surface with its mouth agape (see Withers and Timko 1977). Its elongated wings and graceful flight pattern are captivating: the bird appears to almost flutter, languidly, yet is simultaneously agile and efficient. This long has captured the notice of naturalists, even of Charles Darwin, who, in observing skimmers foraging on a lake in Uruguay, described their flight as "dexterously managed" while they "ploughed up small fish with their projecting lower mandibles, and secured them with the upper half of their scissor-like bills"( Gould 1841).
The entire movement patterns and ecology of Black Skimmer are influenced by the wide-scale "opportunities" offered to migratory birds across vast drainage basins in South America (Davenport et al. 2016), which have a highly complex, interconnected and interdependent flood-pulse ecology (Haig et al. 1998).
Among the three subspecies of Black Skimmer, the North American subspecies breeds mainly on ocean coastlines, while the two South American subspecies breed mainly along exposed sandbars of riverways. This is similar to the habits of two other tropical skimmer species that breed on rivers in Africa (Coppinger et al. 1988) and in south Asia (Sundar 2004). For general biology, and full multimedia coverage of the more extensively studied northern race, see Gochfeld and Burger (1994).
Along with the many English colloquial names for this species (e.g., Cutwater, Flood Gull, Razorbill, Scissor-bill, Seadog, Shearwater, Stormgull; regional details of these local names in North America are summarized in Gochfeld and Burger 1994), Black Skimmers are known by a variety of local names in the south. Spanish names include Arador and Pico de Tijera (Murphy 1936), Cortaguas or "Cutwaters" (Preston 1962), Pa'a guasu in Paraguay (de la Peña and Rumboll 1998), and Rayador Sudamericano (Mariano-Jelicich 2007). Likewise, names used in Brazil include Corta-agua and Rayador along with Bicorasteiro, Corta-mar, Magador, and Talha-mar (Murphy 1936). The official French common name of this species is Bec-en-ciseaux noir (AOU 1998) meaning "black scissor-bill".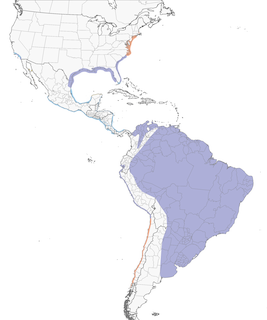 Recommended Citation
Lefevre, K. L. (2018).
Black Skimmer
(
Rynchops niger
), version 1.0. In Neotropical Birds Online (T. S. Schulenberg, Editor). Cornell Lab of Ornithology, Ithaca, NY, USA.
https://doi.org/10.2173/nb.blkski.01