Brassy-breasted Tanager
Tangara desmaresti
Megan Morris and Kevin J. Burns
Version: 1.0 — Published January 27, 2012
Welcome to Birds of the World!
You are currently viewing one of the free accounts available in our complimentary tour of Birds of the World. In this courtesy review, you can access all the life history articles and the multimedia galleries associated with this account.
For complete access to all accounts, a subscription is required.
Already a subscriber? Sign in
One of several Tangara tanagers endemic to the mountains of southeastern Brazil, the Brassy-breasted Tanager easily is distinguished from other similar species by its mostly green plumage with an orange-yellow (brass colored) breast patch, turquoise blue band across the sides of the head and crown, and black forecrown and throat patch. This species regularly joins mixed-species foraging flocks with other tanagers, including the Gilt-edged Tanager (Tangara cyanoventris), as well as with foliage-gleaners, becards, and other species. Its diet appears to consist entirely of small fruits and some insects. The Brassy-breasted Tanager inhabits forest edge, tall second growth, and even plantations, from about 600 m up to 2200 m, and its geographical range spans the states of Espírito Santo south to Paraná.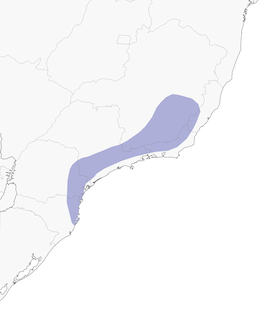 Recommended Citation
Morris, M. and K. J. Burns (2012).
Brassy-breasted Tanager
(
Tangara desmaresti
), version 1.0. In Neotropical Birds Online (T. S. Schulenberg, Editor). Cornell Lab of Ornithology, Ithaca, NY, USA.
https://doi.org/10.2173/nb.brbtan1.01