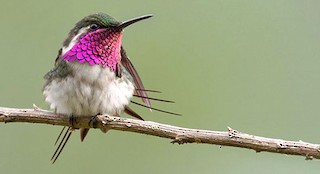 Esmeraldas Woodstar
Chaetocercus berlepschi
A. E. Ágreda
Version: 1.0 — Published June 4, 2010
Welcome to Birds of the World!
You are currently viewing one of the free accounts available in our complimentary tour of Birds of the World. In this courtesy review, you can access all the life history articles and the multimedia galleries associated with this account.
For complete access to all accounts, a subscription is required.
The Esmeraldas Woodstar is one of the tiniest hummingbirds on earth. Adult males have a white postocular stripe, glittering purple gorget, white underparts that contrast with the shiny green crown and upperparts, and a deeply forked tail with spiked outer rectrices. The adult female is pale buffy with a tinge of salmon-pink on the underparts concentrated on the flanks, green upperparts, and a short, rounded, cinnamon tail with an obscure subterminal band and green central rectrices. Both sexes have white patches on the sides of the lower back. The female plumage is similar to that of Little Woodstar (Chaetocercus bombus), its sister taxon, and indeed the plumage of the female berlepschi was confused for many years with female bombus. The female Esmeraldas Woodstar differs primarily in the presence of a white postocular stripe, green central rectrices, and buffier ventral parts. The male juvenile plumage has white ventral parts and postocular stripe, shiny green upperparts and short rounded tail with an obscure subterminal band, green central rectrices and pale corners.
Despite the recent discovery of the female plumage, which partly resolved the mystery of its rarity, the Esmeraldas Woodstar is still considered threatened. Current investigations suggest that its population is larger than originally thought, though still restricted to a small region of coastal Ecuador, and is specific to semideciduous and evergreen pre-montane coastal forest.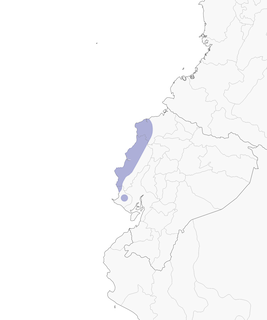 Recommended Citation
Ágreda, A. E. (2010).
Esmeraldas Woodstar
(
Chaetocercus berlepschi
), version 1.0. In Neotropical Birds Online (T. S. Schulenberg, Editor). Cornell Lab of Ornithology, Ithaca, NY, USA.
https://doi.org/10.2173/nb.esmwoo2.01