Fawn-breasted Tanager
Pipraeidea melanonota
Kim Gonzales, Casey H. Richart, and Kevin J. Burns
Version: 1.0 — Published August 14, 2015
Welcome to Birds of the World!
You are currently viewing one of the free accounts available in our complimentary tour of Birds of the World. In this courtesy review, you can access all the life history articles and the multimedia galleries associated with this account.
For complete access to all accounts, a subscription is required.
Already a subscriber? Sign in
Fawn-breasted Tanager (Pipraeidea melanonota) is unlikely to be confused with any other species within its wide range, Venezuela south to northwestern Argentina, and also from southern Brazil south to northeastern Argentina. This species primarily is found in bushy pastures, second growth, gardens, and forest edges. Taxonomy based on molecular systematics has recovered Fawn-breasted Tanager as sister to Blue-and-yellow Tanager (P. bonariensis), which was previously placed in the genus Thraupis. There are currently two recognized subspecies within Fawn-breasted Tanager, which appear to be geographically isolated. This species might actually be expanding its range in some areas due to deforestation. Fawn-breasted Tanager is almost always seen in pairs or individually, forages mainly on insects, and rarely joins mixed species flocks. Due to the Fawn-breasted Tanager's large, albeit disjointed, range it has not been placed on any threatened species lists. The generic name Pipraeidea was named by Linnaeus and comes from the Greek words "pipra" for small bird and "eidos" for likeness. The specific epithet melanonota comes from the Greek words "melas" for black and "nōtos" for back (Jobling 2010). The species is known by a variety of Spanish names including Cachaquito Viuva, Saíra de Antifaz, Tangará de Antifaz, Viuvá, Viuva de Antifaz, Chachaquito, and Tangara de Pecho Anteado (Lepage et al. 2014).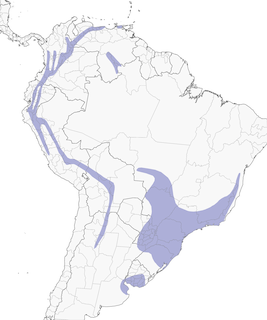 Recommended Citation
Gonzales, K., C. H. Richart, and K. J. Burns (2015).
Fawn-breasted Tanager
(
Pipraeidea melanonota
), version 1.0. In Neotropical Birds Online (T. S. Schulenberg, Editor). Cornell Lab of Ornithology, Ithaca, NY, USA.
https://doi.org/10.2173/nb.fabtan1.01