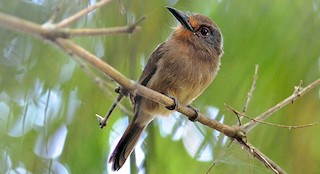 Fulvous-chinned Nunlet
Nonnula sclateri
Thomas S. Schulenberg and Guy M. Kirwan
Version: 1.0 — Published May 22, 2015
Welcome to Birds of the World!
You are currently viewing one of the free accounts available in our complimentary tour of Birds of the World. In this courtesy review, you can access all the life history articles and the multimedia galleries associated with this account.
For complete access to all accounts, a subscription is required.
Already a subscriber? Sign in
Sometimes considered conspecific with Brown Nunlet (Nonnula brunnea), on account of their plumages being very similar and their ranges being allopatric, the natural history of Fulvous-chinned Nunlet is very poorly known. This species is unobtrusive, and apparently is uncommon, or local in distribution. Nothing has been reported to date regarding its diet or reproductive biology. Its distribution extends from eastern Peru south to northern Bolivia, and east across southwestern Amazonian Brazil to the west bank of the Rio Madeira. Fulvous-chinned Nunlet is found in the open understory of primary lowland terra firme and seasonally flooded forests, often in or near bamboo thickets.
Recommended Citation
Schulenberg, T. S. and G. M. Kirwan (2015).
Fulvous-chinned Nunlet
(
Nonnula sclateri
), version 1.0. In Neotropical Birds Online (T. S. Schulenberg, Editor). Cornell Lab of Ornithology, Ithaca, NY, USA.
https://doi.org/10.2173/nb.fucnun1.01