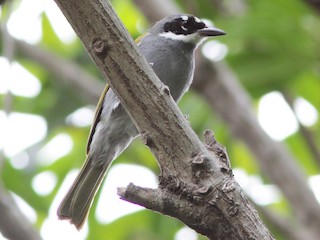 Gray-crowned Palm-Tanager
Phaenicophilus poliocephalus
Jason M. Townsend
Version: 1.0 — Published March 16, 2009
Species names in all available languages
Species names in all available languages

| Language | Common name |
| --- | --- |
| Dutch | Grijskruinpalmtangare |
| English | Gray-crowned Palm-Tanager |
| English (United States) | Gray-crowned Palm-Tanager |
| French | Katje à couronne grise |
| French (French Guiana) | Katje à couronne grise |
| French (Haiti) | Tangara quatre yeux |
| German | Grauscheitel-Palmtangare |
| Haitian Creole (Haiti) | Kat-je tèt gri |
| Japanese | ハイガシラヤシフウキンチョウ |
| Norwegian | haititanagar |
| Polish | hispaniolczyk szarołbisty |
| Russian | Серошапочная пальмагра |
| Serbian | Sivoglava palmina tangara |
| Slovak | palmara sivohlavá |
| Spanish | Cuatro Ojos Coronigrís |
| Spanish (Dominican Republic) | Cuatro Ojos Cabeza Gris |
| Spanish (Spain) | Cuatro ojos coronigrís |
| Swedish | gråkronad sångtangara |
| Turkish | Gri Alınlı Palmiye Tangarası |
| Ukrainian | Пальмагра сіроголова |
The Gray-crowned Palm-Tanager (Phaenicophilus poliocephalus) is Haiti's lone avian endemic. The species occurs west of the Jacmel Depression -- a strip of low-lying land running north to south that separates the still bio-diverse and relatively well-forested Tiburon peninsula from the rest of Hispaniola. Towering over the Tiburon is the Massif de la Hotte, one of Haiti's major mountain ranges and, fortunately for the Gray-crowned Palm-Tanager, a last bastion for Haiti's flora and fauna (Rimmer et al. 2005). Until the Mid Pleistocene the Jacmel Depression sat below sea-level, forming a water barrier that effectively isolated the Massif de la Hotte from the rest of Hispaniola (Maurrasse and Rigaud 1982). This geographic isolation allowed for the speciation of the Gray-crowned Palm-Tanager, along with multiple other species of flora and fauna unique to these mountains, many of which have yet to be described by science. The Gray-crowned Palm-Tanager is a relatively common species in this region and is most often associated with forests, where it probes dead leaves for arthropods and also consumes soft-bodied fruit. It inhabits mangrove, scrub, gardens, city parks, agro-forestry plantations, pine, semi-humid forest and humid forest (Keith et al. 2003). The species can be found from sea-level to the highest forested peaks at 2400 m, and is especially abundant in the karst limestone rainforests of the Macaya Biosphere Reserve, a loosely protected national park high up in the Massif de la Hotte. Although this species can be considered common in comparison to other resident species in Haiti, it is likely that the extreme diminution of Haiti's forests over the last 200 years has caused a general decline in the species' total population (Kieth et al. 2003). It is estimated that just 1.5% of Haiti's original forest cover remains, and even this little bit is under constant pressure from shifting agriculture and charcoal production for cooking fuel (Rimmer et al. 2005). All forest-dwelling birds in Haiti, whether resident or migrant, face a tenuous situation, and several authors consider Gray-crowned Palm-Tanager to be of conservation concern due to it's restricted range and the near-total lack of conservation enforcement in Haiti (Birdlife International 2000, Rimmer et al. 2005, Sly et al. 2010).
Gray-crowned Palm-Tanager photos © Juan Klavins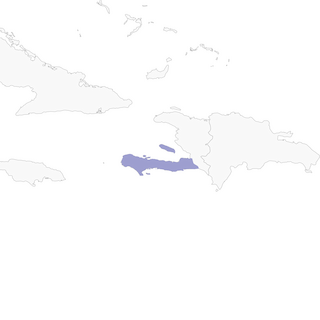 Recommended Citation
Townsend, J. M. (2009).
Gray-crowned Palm-Tanager
(
Phaenicophilus poliocephalus
), version 1.0. In Neotropical Birds Online (T. S. Schulenberg, Editor). Cornell Lab of Ornithology, Ithaca, NY, USA.
https://doi.org/10.2173/nb.gcptan1.01