Giant Antpitta
Grallaria gigantea
Harold F. Greeney
Version: 1.0 — Published July 10, 2015
Welcome to Birds of the World!
You are currently viewing one of the free accounts available in our complimentary tour of Birds of the World. In this courtesy review, you can access all the life history articles and the multimedia galleries associated with this account.
For complete access to all accounts, a subscription is required.
Already a subscriber? Sign in
The aptly-named Giant Antpitta is a huge antpitta, rare and seldom seen until recently. It is found largely in Ecuador, but also occurs in southernmost Colombia. It is replaced farther north in the Andes of Venezuela by Great Antpitta (Grallaria excelsa). Recently this awesome antpitta became much easier to see in a spot close to Quito, Ecuador where an entrepreneurial local man (Angel Paz) habituated a pair of these antpittas to take worms from him, luring them out into the trail so that birders could see the bird. Paz was immensely successful in his efforts, and the birds, particularly "Maria", the female, have become well known characters on the bird touring circuit. Paz has been able to move from berry farming to ecotourism, and his methodology is being copied throughout Ecuador with great results. Giant Antpitta is a relatively quiet species, singing for only a short season. It is found on both the East and West slopes of the Andes, at elevations between 1200 and 3000 m. It is among the largest antpittas, most similar to Undulated Antpitta (Grallaria squamigera), but with bright rufous in the forecrown and finely-barred, distinctly richer rufous underparts. The breeding biology of Giant Antpitta is largely unknown, with the first nest being described only in 2009.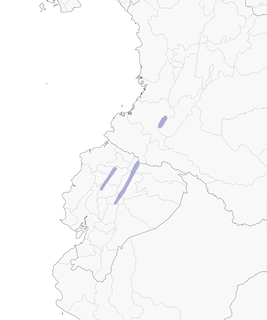 Recommended Citation
Greeney, H. F. (2015).
Giant Antpitta
(
Grallaria gigantea
), version 1.0. In Neotropical Birds Online (T. S. Schulenberg, Editor). Cornell Lab of Ornithology, Ithaca, NY, USA.
https://doi.org/10.2173/nb.giaant1.01