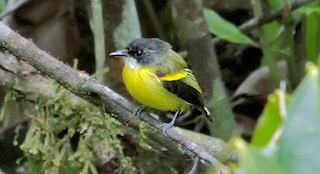 Golden-winged Tody-Flycatcher
Poecilotriccus calopterus
Thomas S. Schulenberg and Guy M. Kirwan
Version: 1.0 — Published June 20, 2014
Welcome to Birds of the World!
You are currently viewing one of the free accounts available in our complimentary tour of Birds of the World. In this courtesy review, you can access all the life history articles and the multimedia galleries associated with this account.
For complete access to all accounts, a subscription is required.
Compared to most congenerics, Golden-winged Tody-Flycatcher inhabits a comparatively small range, being confined to southeastern Colombia, eastern Ecuador, and extreme northeastern Peru, entirely north of the Amazon. It is not rare, but, like other species of Poecilotriccus, easily is overlooked without appropriate knowledge of its vocalizations. In plumage, its black head, broad white throat, large yellow wingbar, chestnut shoulder patch, and bright yellow underparts make this an easily identified, and beautiful, bird. Golden-winged Tody-Flycatcher has been recorded to 1450 m in the eastern foothills of the Andes, and it inhabits dense undergrowth in lowland forest and edges, sometimes even being found in overgrown pastures or large gardens. Virtually nothing is known concerning its ecology.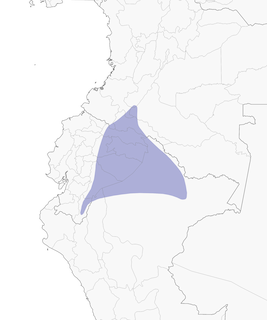 Recommended Citation
Schulenberg, T. S. and G. M. Kirwan (2014).
Golden-winged Tody-Flycatcher
(
Poecilotriccus calopterus
), version 1.0. In Neotropical Birds Online (T. S. Schulenberg, Editor). Cornell Lab of Ornithology, Ithaca, NY, USA.
https://doi.org/10.2173/nb.gowtof1.01