SPECIES
Great Black Hawk
Buteogallus urubitinga
John van Dort
Version: 1.0 — Published January 18, 2019
Distribution
Welcome to Birds of the World!
You are currently viewing one of the free accounts available in our complimentary tour of Birds of the World. In this courtesy review, you can access all the life history articles and the multimedia galleries associated with this account.
For complete access to all accounts, a subscription is required.
Already a subscriber? Sign in
Distribution in the Americas
Broadly speaking, Great Black Hawk occurs from northern Mexico south, west of the Andes, to northwestern Peru and, east of the Andes, to northern Argentina.
The northern subspecies, ridgwayi, is distributed from northern Mexico (north to southeastern Sonora, southwestern Chihuahua, and southern Tamaulipas) south to eastern Panama (Darién). The southern subspecies, urubitinga, occurs from eastern Panama (Darién) south to northwestern Peru, and to the pampas of northern Argentina and Uruguay; it also is on Trinidad and Tobago. This species is considered sedentary throughout the range, although there is evidence of some wandering from urubitinga into eastern San Blas (Panama) and from ridgwayi into northwestern Colombia (northwestern Chocó; the species also is seen occasionally south of breeding range in eastern Argentina (Ferguson-Lees and Christie 2001).
Vagrants of unknown provenance have been documented in the US, most notably on Virginia Key in s Florida (Diaz 2009). The first Florida Keys observations date back to the early 1970s, when multiple pairs, all of the South American urubitinga subspecies, were observed; these observations, now typically of single birds, have continued into the 2010's. To date, these records have not been accepted by the Florida Ornithological Society Records Committee, presumably because of doubts about the origin of this bird. In April 2018, a juvenile was photographed in s Texas, and very likely the same bird (based on a comparison of remarkably similar markings on the underwing coverts; see also Pyle et al. 2018) was seen in August and late fall 2018 in Maine, and remaining present until January 2019; this bird was euthanized, after it was found to have extensive frostbite on both of its legs. Immature Great Black Hawks cannot safely be identified to subspecies.
Distribution outside the Americas
Endemic to the Americas.
Great Black Hawk occurs in a variety of forests and wet open fields, usually not far from water (Clark and Schmitt 2017). In Venezuela, Great Black Hawk is a common resident along rivers and oxbows in humid lowland forest, typically below 500 m (Hilty 2003). Common also in Peruvian Amazon along rivers and streams (Schulenberg et al. 2007). It mostly is found in the lowlands, from sea level up to 900 m, although it is reported up to 1800 m in Mexico (Howell and Webb 1995), and, locally, up to 1200 m in Costa Rica (Stiles and Skutch 1989). Great Black Hawk may be more restricted to lower elevations in South America, with reported upper elevational limits of 1000 m in Colombia; typically below 500 m in Venezuela (Hilty 2003). below 400 m in eastern Ecuador, although it occurs up to 900-1400 m in southwestern Ecuador (Ridgely and Greenfield 2001a); only up to 500 m in southeastern Peru (Walker et al. 2006); and typically below 1100 m in Bolivia (Herzog et al. 2016).
Great Black Hawk used to occur as far north as Florida (southeastern United States), based on fossil remains from the Plio-Pleistocene, i.e. at least 5 mya (Emslie 1998).
The fossil eagle Aquila borrasi from the Cuban Quaternary (probably late Pleistocene) was reassigned to Buteogallus and described as a 33% larger version of Great Black Hawk (Suárez and Olson 2007).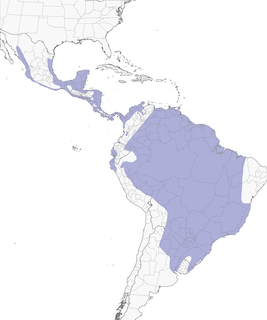 Recommended Citation
van Dort, J. (2019).
Great Black Hawk
(
Buteogallus urubitinga
), version 1.0. In Neotropical Birds Online (T. S. Schulenberg, Editor). Cornell Lab of Ornithology, Ithaca, NY, USA.
https://doi.org/10.2173/nb.grbhaw1.01