SPECIES
Koepcke's Screech-Owl
Megascops koepckeae
Thomas S. Schulenberg
Version: 1.0 — Published February 5, 2016
Distribution
Welcome to Birds of the World!
You are currently viewing one of the free accounts available in our complimentary tour of Birds of the World. In this courtesy review, you can access all the life history articles and the multimedia galleries associated with this account.
For complete access to all accounts, a subscription is required.
Already a subscriber? Sign in
Distribution in the Americas
Koepcke's Screech-Owl is endemic to northern and central Peru. The nominate subspecies occurs along the west slope of the Andes in Lambayeque, Cajamarca, and La Libertad; in the Santa Valley of Ancash, which also drains into the Pacific; and in Lima (Schulenberg et al. 2010, Fjeldså et al. 2012). It also is present in the Utcubamba Valley, in the Marañón drainage, in Amazonas (Schulenberg et al. 2010, Fjeldså et al. 2012). It is to be expected at additional sites, such as along the west slope in southern Ancash and northern Lima, and elsewhere in the Marañón valley (Fjeldså et al. 2012).
Subspecies hockingi occurs in south central Peru, in dry intermontane valleys in southern Junín and in Huancavelica, Ayacucho, and Apurímac, and in western Cuzco (Fjeldså et al. 2012).
Specimens from Bolivia that Hekstra (1982) identified as koepckeae prove to be examples of Tropical Screech-Owl (Megascops choliba) and Montane Forest Screech-Owl (Megascops hoyi) (Fjeldså et al. 2012).
The elevational range of nominate koepckeae is 1840-4500 m, and hockingi occurs from 1400-3400 (but probably is more frequent below 2000 m) (Fjeldså et al. 2012)
Distribution outside the Americas
Endemic to the Americas.
The habitat preferences of Koepcke's Screech-Owl are geographically variable. Nominate koepckeae occupies high elevation evergreen forests, including Polylepis woods and exotic Eucalyptus; it is replaced at lower elevations, in drier forests, by Peruvian Screech-Owl (Megascops roboratus) and, locally in more humid forests, by White-throated Screech-Owl (Megascops albogularis) (Fjeldså et al. 2012). Subspecies hockingi, in the dry intermontane valleys of south central Peru, occurs in dry forest, primarily in Prosopis, but other tree species include Eriotheca and Bombax, and it also occurs in scrubby areas with groves of Eucalyptus (Fjeldså et al. 2012).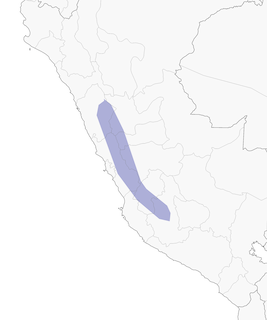 Recommended Citation
Schulenberg, T. S. (2016).
Koepcke's Screech-Owl
(
Megascops koepckeae
), version 1.0. In Neotropical Birds Online (T. S. Schulenberg, Editor). Cornell Lab of Ornithology, Ithaca, NY, USA.
https://doi.org/10.2173/nb.koesco1.01