Species names in all available languages
Species names in all available languages

| Language | Common name |
| --- | --- |
| Dutch | Kleine Nachtzwaluw |
| English (United States) | Little Nightjar |
| French | Engoulevent des bois |
| German | Zwergnachtschwalbe |
| Japanese | コヨタカ |
| Norwegian | smånattravn |
| Polish | lelkowiec szarawy |
| Portuguese (Brazil) | bacurau-chintã |
| Portuguese (Portugal) | Bacurau-chintã |
| Russian | Малый козодой |
| Serbian | Mali leganj |
| Slovak | lelek hájový |
| Spanish | Chotacabras Chico |
| Spanish (Argentina) | Atajacaminos Chico |
| Spanish (Paraguay) | Atajacaminos chico |
| Spanish (Peru) | Chotacabras Chico |
| Spanish (Spain) | Chotacabras chico |
| Spanish (Uruguay) | Dormilón Chico |
| Swedish | mindre nattskärra |
| Turkish | Küçük Çobanaldatan |
SPECIES
Little Nightjar
Setopagis parvula
Kaiya Provost
Version: 1.0 — Published April 17, 2015
Distribution
Welcome to Birds of the World!
You are currently viewing one of the free accounts available in our complimentary tour of Birds of the World. In this courtesy review, you can access all the life history articles and the multimedia galleries associated with this account.
For complete access to all accounts, a subscription is required.
Distribution in the Americas
Little Nightjar occurs in central and north central South America east of the Andes, from eastern Peru east, south of the Amazon, to northeastern Brazil, and south to northern Argentina and Uruguay (Sick 1993, Cleere 1998, Mazar Barnett and Pearman 2001, Hennessey et al. 2003, Schulenberg et al. 2010).
Little Nightjar is migratory to some extent, but the seasonality and geography of its migrations are not well known. Mazar Barnett and Pearman (2001) consider it to be a partial austral migrant in Argentina, implying that it moves north after breeding but that it does not completely vacate that country. Belton (1984), however, found it to be present in southernmost Brazil (Rio Grande do Sul) only from late October to mid February. Wetmore (1926) reported that it arrived in Paraguay in mid September. Sick (1993) noted that it appeared "in large numbers" in Minais Gerais, eastern Brazil, in October. The status of Little Nightjar in Peru also is not clear; there are breeding records from that country, but in much of Peru it appears to be primarily an austral migrant (Schulenberg et al. 2010). Henneseey et al. (2003) also consider Little Nightjar to be an austral migrant to Bolivia, although Brace and Hornbuckle (1998) report a nesting record from Bolivia.
Little Nightjar occurs in the lowlands (Schulenberg et al. 2010), with an elevational range in Bolivia of 200-1500 m (Hennessey et al. 2003).
Distribution outside the Americas
Endemic to the Americas.
Little Nightjar occupies open woodland and forests and woodlands and brushy savannas (campos sujos) (Sick 1993, Cleere 1998). It also occurs in modified habitats, such as groves of non-native eucalyptus (Belton 1984). At one site at a chaco woodland in northern Argentina, Little Nightjars demonstrated a tendency to prefer forest edges to the forest interior, but this difference is not significant statistically (Lopez de Casenave et al. 1998).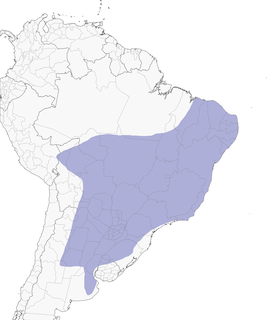 Recommended Citation
Provost, K. (2015).
Little Nightjar
(
Setopagis parvula
), version 1.0. In Neotropical Birds Online (T. S. Schulenberg, Editor). Cornell Lab of Ornithology, Ithaca, NY, USA.
https://doi.org/10.2173/nb.litnig1.01