Species names in all available languages
Species names in all available languages

| Language | Common name |
| --- | --- |
| Czech | kondor menší |
| Dutch | Kleine Geelkopgier |
| English | Lesser Yellow-headed Vulture |
| English (United States) | Lesser Yellow-headed Vulture |
| Finnish | pikkukondori |
| French | Urubu à tête jaune |
| French (France) | Urubu à tête jaune |
| German | Savannen-Gelbkopfgeier |
| Japanese | キガシラコンドル |
| Norwegian | myrkondor |
| Polish | sępnik pstrogłowy |
| Portuguese (Brazil) | urubu-de-cabeça-amarela |
| Portuguese (Portugal) | Urubu-de-cabeça-amarela |
| Russian | Малая желтоголовая катарта |
| Serbian | Mali žutoglavi lešinar |
| Slovak | kondor modrohlavý |
| Spanish | Aura Sabanera |
| Spanish (Argentina) | Jote Cabeza Amarilla Chico |
| Spanish (Costa Rica) | Zopilote Cabecigualdo |
| Spanish (Ecuador) | Gallinazo Cabeciamarillo Menor |
| Spanish (Honduras) | Zopilote Cabeza Amarilla |
| Spanish (Mexico) | Zopilote Sabanero |
| Spanish (Panama) | Gallinazo Cabeciamarillo Menor |
| Spanish (Paraguay) | Cuervo cabeza amarilla |
| Spanish (Peru) | Gallinazo de Cabeza Amarilla Menor |
| Spanish (Spain) | Aura sabanera |
| Spanish (Uruguay) | Cuervo Cabeza Amarilla |
| Spanish (Venezuela) | Oripopo Cabeza Amarilla Menor |
| Swedish | savanngam |
| Turkish | Küçük Sarı Başlı Akbaba |
| Ukrainian | Катарта саванова |
SPECIES
Lesser Yellow-headed Vulture
Cathartes burrovianus
Jack C. Eitniear
Version: 1.0 — Published September 19, 2014
Distribution
Distribution in the Americas
Lesser Yellow-headed Vulture occurs from Mexico south to Panama, and in South America from Colombia east to the Guianas, and shouth to Paraguay, northeastern Argentina, and Uruguay. In Mexico it occurs north to southern Tamaulipas (Wetmore 1964, Howell and Webb 1995) on the Atlantic slope, and to Oaxaca on the Pacific slope (Binford 1989, Howell and Webb 1995). It does not occur on the Pacific slope of Colombia (Hilty and Brown 1986), although it is in the Cauca Valley (Hilty and Brown 1986), and is not reported at all from Ecuador (Ridgely and Greenfield 2001).
Lesser Yellow-headed Vulture usually is regarded as resident, but may undertake short distance migrations in parts of its range. Seasonal changes in abundance are reported from Panama (Ridgely and Gwynne 1989) and in Venezuela (Friedmann and Smith 1950), although Hilty (2003) suggested that seasonal differences in abundance in Venezuela required documentation. Koester (1982) noted 1 Lesser Yellow-headed Vulture for every 5-10 Turkey Vultures migrating through northern Colombia from September until April. It appeared likely that migratory populations of C. burrovianus also wintered in northern Colombia (Koester 1982).
Possible vagrant to southern Texas (Dresser 1865).
Distribution outside the Americas
Endemic to the Americas.
Lesser Yellow-headed Vulture occupies open habitats, especially wet grasslands and marshes, and less frequently in mangroves, dry fields, and clearing (Hilty and Brown 1986, Howell and Webb 1995, Hilty 2003, Schulenberg et al. 2010).
The historical range has not changed, but numbers of Lesser Yellow-headed Vulture in southern Tamaulipas (Tampico wetlands) have declined since the 1960s (Greaber and Graber 1954, Eitniear personal observations). New records in the center and northwest of Argentina suggest an apparent increase of its abundance in the Argentine Dry Chaco ecoregion (Paulini et al.2015).
Lesser Yellow-headed Vulture is not reported as a fossil. The oldest known fossil cathartid vulture is Paracathartes howardae is from early Eocene (about 60–50 million years ) in Wyoming (Kirk and Mossman 1998); the Pleistocene fossil record includes both extant and extinct cathartids (Rich 1983).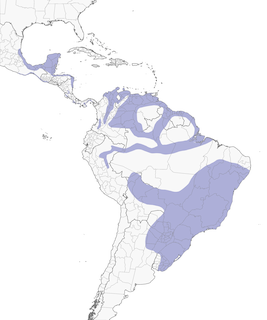 Recommended Citation
Eitniear, J. C. (2014).
Lesser Yellow-headed Vulture
(
Cathartes burrovianus
), version 1.0. In Neotropical Birds Online (T. S. Schulenberg, Editor). Cornell Lab of Ornithology, Ithaca, NY, USA.
https://doi.org/10.2173/nb.lyhvul1.01