SPECIES
Magnificent Hummingbird
Eugenes fulgens
Ruth Partida-Lara and Paula L. Enríquez
Version: 1.0 — Published November 2, 2012
Distribution
Distribution in the Americas
Magnificent Hummingbird occurs in montane areas from the southwestern United States (southern Arizona, southwestern New Mexico, and possibly western Texas) south through Mexico to the highlands of Guatemala, Honduras, and northern Nicaragua, and again in Costa Rica and western Panama. This species occurs on both slopes in Mexico, north to Sonora and Sinaloa in western Mexico, and to Coahuila and Nuevo León in eastern Mexico (Escalante 1988). Magnificent Hummingbird is resident in most of its range, but the northernmost populations (in the southern United States, Sonora, Coahuila, and Nuevo León) move south in the nonbreeding season. to Chiapas and Guatemala to Honduras and N Nicaragua.
Recent records in Chiapas are from Huitepec Ecological Reserve (16°44´N, 92°41´W), San José Bocomtenelté Educational Park (16° 43' 12" N, 92 42' 03" W), Laguna Bélgica Educational Park (16º 52' 00' N, 93º 26'30' W) and El Triunfo Biosphere Reserve (15º 09' 10"N, 92° 34' 04" W).
In Mexico Magnificent Hummingbird occurs from 1000-3000 m, but primarily above 1500 m (Howell and Webb 1995). In Costa Rica their distribution is from higher parts of Cordillera Central and Cordillera de Talamanca, down to 2000 m, but they are most common above 2500 m; sporadically (seasonally?) also down to 1850 m (Stiles and Skutch 1989). In Panama, Magnificent Hummingbird occurs in the highlands of western Chiriqui at 1650 m around the Baru Volcano (Ridgely and Gwynne 1993).
Distribution outside the Americas
Endemic to the Americas.
The habitats of Magnificent Hummingbird are pine-oak forest, humid montane ("cloud") forest, and forest edges (Navarro 1992, Schuchmann 1999). It occurs inside forest, but also occupies forest edges and second growth (Schuchmann 1999), grassland and farmland containing agave flowers (Howell and Webb 1995).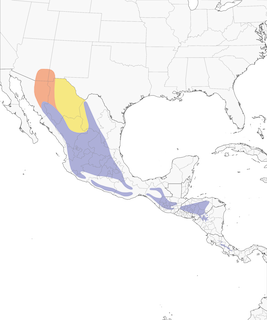 Recommended Citation
Partida-Lara, R. and P. L. Enríquez (2012).
Magnificent Hummingbird
(
Eugenes fulgens
), version 1.0. In Neotropical Birds Online (T. S. Schulenberg, Editor). Cornell Lab of Ornithology, Ithaca, NY, USA.
https://doi.org/10.2173/nb.maghum.01