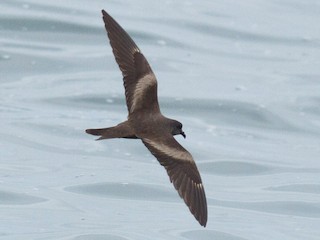 Markham's Storm-Petrel
Oceanodroma markhami
Jacob Drucker and Alvaro Jaramillo
Version: 1.0 — Published February 8, 2013
Welcome to Birds of the World!
You are currently viewing one of the free accounts available in our complimentary tour of Birds of the World. In this courtesy review, you can access all the life history articles and the multimedia galleries associated with this account.
For complete access to all accounts, a subscription is required.
Already a subscriber? Sign in
Markham's Storm-Petrel is endemic to the Humboldt Current off South America. It is a large and all dark storm petrel, quite similar to the northern hemisphere migratory Black Storm-Petrel (Oceanodroma melania). The two species may be found together at times but Markham's prefers cooler water, has a shallower wingbeat, and much shorter tarsi. This storm-petrel is relatively common in the Humboldt Current, although up until a few years ago almost nothing was known of its breeding biology. A colony of over 1000 nests was found in the Paracas Peninsula, Peru recently, under saltpeter deposits, between 200 and 300 m above sea level, some up to 5 km inland. Still, the vast majority of Markham's Storm-Petrels observed offshore remain unaccounted for, so many other colonies are suspected to exist. In Chile various lines of evidence, such as recently fledged young away from the ocean, suggest that nesting may occur well inland in the desert in that country as well. Markham's Storm-Petrel is listed as Data Deficient by the IUCN due to the lack of firm knowledge of nesting sites, and lack of breeding population estimates.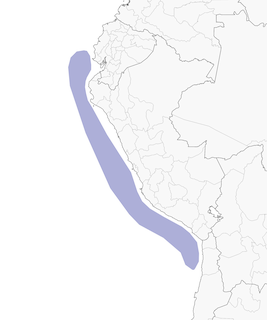 Recommended Citation
Drucker, J. and A. Jaramillo (2013).
Markham's Storm-Petrel
(
Oceanodroma markhami
), version 1.0. In Neotropical Birds Online (T. S. Schulenberg, Editor). Cornell Lab of Ornithology, Ithaca, NY, USA.
https://doi.org/10.2173/nb.maspet.01