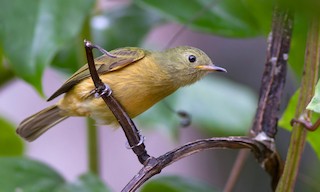 Ochre-bellied Flycatcher
Mionectes oleagineus
Hilary Standish, Eleanor Mayne, Frances Hall, and Wendy Tori
Version: 1.0 — Published December 13, 2013
Welcome to Birds of the World!
You are currently viewing one of the free accounts available in our complimentary tour of Birds of the World. In this courtesy review, you can access all the life history articles and the multimedia galleries associated with this account.
For complete access to all accounts, a subscription is required.
For a tyrant-flycatcher, Ochre-bellied Flycatcher is slightly unusual in being predominantly a frugivore, specializing in mistletoe fruits, although it also consumes insects. Principally dull olive green above and over the head, Ochre-bellied Flycatcher is largely cinnamon buff below, with a variable amount of olive streaking. Ochre-bellied Flycatcher occupies a very wide geographic range, from southern Mexico and Central America south to much of the northern half of South America, with an outlying population in the Atlantic Forest of eastern Brazil. As many as 12 subspecies have been described, which differ principally in underparts coloration and wing pattern, although only seven of these are generally recognized under modern taxonomy (and some of these might be better considered as synonyms). Ochre-bellied Flycatchers prefer the lower growth of a wide variety of humid forest habitats, tall second growth and even large gardens, and the species occurs from the lowlands up to at least 1800 m. The breeding behavior of this species has been reasonably well studied, and it seems that the species generally operates in an 'exploded lek' system, in which the majority of males occupy a specific display territory that is defended from intruders.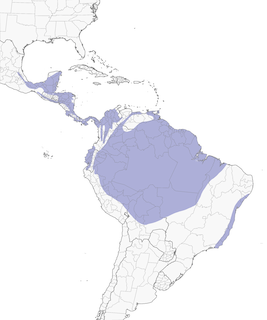 Recommended Citation
Standish, H., E. Mayne, F. Hall, and W. Tori (2013).
Ochre-bellied Flycatcher
(
Mionectes oleagineus
), version 1.0. In Neotropical Birds Online (T. S. Schulenberg, Editor). Cornell Lab of Ornithology, Ithaca, NY, USA.
https://doi.org/10.2173/nb.ocbfly1.01