SPECIES
Ocellated Turkey
Meleagris ocellata
Jon T. McRoberts, Terrell D. Rich, Claudia I. Rodríguez-Flores, Carlos A. Soberanes-González, and Marîa del Coro Arizmendi
Version: 1.0 — Published May 4, 2012
Distribution
Welcome to Birds of the World!
You are currently viewing one of the free accounts available in our complimentary tour of Birds of the World. In this courtesy review, you can access all the life history articles and the multimedia galleries associated with this account.
For complete access to all accounts, a subscription is required.
Already a subscriber? Sign in
Distribution in the Americas
Resident populations are found in the Mexican peninsular states of Campeche, Yucatán , and Quintana Roo and are reported in Tabasco and Chiapas. Ocellated Turkeys are also found in the Petén region of Guatemala and northern Belize. The species is highly localized within its range and fine-scale distribution data are unknown. Breeding range coincides with occupied range.
Stephens (1841) reports encountering Wild Turkeys in Honduras, however, as noted by Leopold (1948) native people of the region, and presumably early explorers, may indiscriminately refer to Great Curassows (Crax rubra) as "turkeys."
Distribution outside the Americas
This species is not found outside of North America (Mexico) and Central America (Guatemala and Belize).
Ocellated Turkeys are found in lowland dry-tropics characteristic of Chicle-zapote (Achras spp.) and Ramon (Brosimum spp.) forests, forest gaps and edge, open savannas, marshlands, and scrub-regrowth habitats. They also utilize agricultural areas, with levels of crop production ranging from milpa subsistence agriculture to industrial production. Agricultural areas are frequently surrounded by jungle environments creating a habitat mosaic that supports large populations by providing forest cover and clearings, a functional habitat for Ocellated Turkeys (Gonzalez et al. 1996). Leopold (1948) noted the utilization of agriculture by Ocellated Turkeys and the longevity of this association dating back to the time of the Mayan people, a civilization that cleared jungle to produce crops (Pohl 1996). Steadman et al. (1979) reports Ocellated Turkeys roosting on horizontal branches of trees 5–11 m above ground; trees possessing such characteristics are necessary habitat requirements. Open areas or clearings are used by males during breeding season for displaying. Ocellated Turkeys are often most visible in the protected Mayan ruin areas such as Tikal and Calakmul where local birds have been habituated to the presence of humans and are often quite tame.
Ocellated Turkeys have been extirpated from portions of their historic range due to unregulated subsistence hunting, logging, and dry season burning.
Fossil records indicate that Ocellated Turkey was a food source of indigenous Mayan people of the Neotropics (Hamblin and Rea 1985). Additional fossil records indicate that birds were once present on Isla Cozumel, Mexico. However, this could have been the result of Ocellated Turkeys serving as a source of food and resulting trade among Mayan people (Hamblin and Rea 1985). There are no reports of domestication.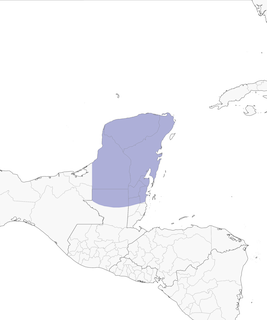 Recommended Citation
McRoberts, J. T., T. D. Rich, C. I. Rodríguez-Flores, C. A. Soberanes-González, and M. d. C. Arizmendi (2012).
Ocellated Turkey
(
Meleagris ocellata
), version 1.0. In Neotropical Birds Online (T. S. Schulenberg, Editor). Cornell Lab of Ornithology, Ithaca, NY, USA.
https://doi.org/10.2173/nb.ocetur1.01