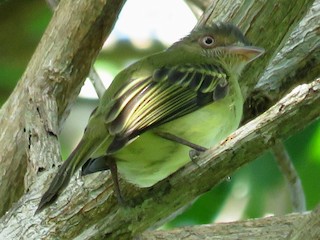 Orange-eyed Flycatcher
Tolmomyias traylori
Thomas S. Schulenberg and Guy M. Kirwan
Version: 1.0 — Published March 1, 2012
Welcome to Birds of the World!
You are currently viewing one of the free accounts available in our complimentary tour of Birds of the World. In this courtesy review, you can access all the life history articles and the multimedia galleries associated with this account.
For complete access to all accounts, a subscription is required.
The most recently described member of the genus Tolmomyias, a taxonomically complex genus with relatively low levels of morphological variation, the Orange-eyed Flycatcher was famously discovered by Ted Parker during fieldwork in a relatively well-known part of the Peruvian Amazon. Nonetheless, it eventually transpired that the species had been first collected as long ago as the 1860s, and that Melvin Traylor, one of the foremost museum specialists on tyrant flycatchers and for whom the new species was eventually named, had already noticed that some specimens attributed to other Tolmomyias didn't quite "fit." The Orange-eyed Flycatcher is restricted to the midstory of relatively mature várzea forest in upper Amazonia, from southeastern Colombia to northeastern Peru, and is ecologically separated from its congenerics, from which this flycatcher is further distinguished by its buff wash to the lores and foreface and its pale orange irides. As yet, very little is known of this species' ecology, other than it feeds on insects and at least sometimes joins mixed-species flocks. Perhaps surprisingly, given that other Tolmomyias are usually relatively common, the Orange-eyed Flycatcher seems to be somewhat rare, although it is does not appear to be threatened to date.
Recommended Citation
Schulenberg, T. S. and G. M. Kirwan (2012).
Orange-eyed Flycatcher
(
Tolmomyias traylori
), version 1.0. In Neotropical Birds Online (T. S. Schulenberg, Editor). Cornell Lab of Ornithology, Ithaca, NY, USA.
https://doi.org/10.2173/nb.orefly1.01