SPECIES
Paltry Tyrannulet
Zimmerius vilissimus
Andrew W. Jones
Version: 1.0 — Published December 15, 2017
Distribution
Welcome to Birds of the World!
You are currently viewing one of the free accounts available in our complimentary tour of Birds of the World. In this courtesy review, you can access all the life history articles and the multimedia galleries associated with this account.
For complete access to all accounts, a subscription is required.
Distribution in the Americas
Paltry Tyrannulet occurs from Central America to northwestern South America, with the elevation ranges varying by subspecies. Nominate vilissimus occurs in southeastern Mexico (Chiapas) east through Guatemala, into central El Salvador and southern Belize, from 500 m to 2500 m (Dickey and van Rossem 1938, Howell and Webb 1995, Jones et al. 2000). Subspecies parvus occurs in the lowlands of northern Honduras, eastern Nicaragua, and at all elevations (to 3,000 m) through Costa Rica and Panama and into the lowlands of extreme northwest corner of Colombia along the Panama border. The subspecies complex including improbus, tamae, petersi, and several potentially undescribed taxa is found from 1500-2400 m in the Sierra Nevade de Santa Marta of Colombia and the Serranía de Perijá of Colombia and Venezuela, and at slightly lower elevations from Norte de Santander in Colombia through the Cordillera de Mérida and Coastal Range of Venezeula.
Paltry Tyrannulet is a resident throughout most of its range, but the northernmost populations are elevational migrants, descending to lower elevations during winter (Howell and Webb 1995).
Distribution outside the Americas
Endemic to the Americas.
Paltry Tyrannulet occupies sparse to fairly densely forested areas, including fields and pastures interspersed with trees and shrubs. Mistletoes (Loranthaceae) make up a significant part of the diet, and this species is more abundant in areas where mistletoes are common.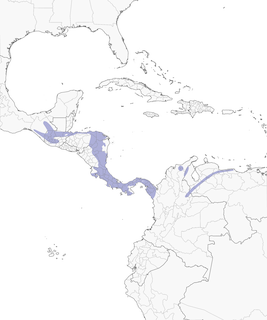 Recommended Citation
Jones, A. W. (2017).
Paltry Tyrannulet
(
Zimmerius vilissimus
), version 1.0. In Neotropical Birds Online (T. S. Schulenberg, Editor). Cornell Lab of Ornithology, Ithaca, NY, USA.
https://doi.org/10.2173/nb.paltyr1.01