SPECIES
Red-billed Curassow
Crax blumenbachii
Christine Steiner S. Bernardo
Version: 1.0 — Published June 17, 2011
Distribution
Welcome to Birds of the World!
You are currently viewing one of the free accounts available in our complimentary tour of Birds of the World. In this courtesy review, you can access all the life history articles and the multimedia galleries associated with this account.
For complete access to all accounts, a subscription is required.
Already a subscriber? Sign in
Distribution in the Americas
Resident and endemic species of southeast Atlantic rainforest of Brazil. The species naturally occurred in four Brazilian states, in southern Bahia, Espírito Santo, eastern Minas Gerais, and Rio de Janeiro. The Red-billed Curassow was extirpated from most of its range, and survives in very few, small populations. Currently the only populations in Minas Gerais and Rio de Janeiro are from reintroductopns during the 1990s and 2006, respectively.
The Red-billed Curassow is mainly distributed in lowland forests below 500 m and is associated with riverine forests.
Distribution outside the Americas
Endemic to the southeast Brazilian Atlantic rainforest.
The Red-billed Curassow is now restricted to isolated fragments of the Atlantic rainforest. Observations of wild birds suggest that the species prefers areas of undisturbed lowland forest habitat in close proximity to streams and rivers, but also are tolerant of agriculture and secondary forest (Sick 1970, Teixeira and Snow 1982, Collar and Gonzaga 1988).
Reintroduced individuals at Guapiaçu Ecological Reserve, one of the best private large reserves of Rio de Janeiro, showed preference for lowland flat terrains, and frequently used areas up to 700 m elevation (Bernardo 2010). Because all these birds were tagged with backpack radio transmitters (Bernardo et al. 2011), it was also possible to detect that the majority locations for curassows were less than 100 m from water sources (Bernardo 2010).
The Red-billed Curassow apparently was widespread and common in its former range, from at least southern Bahia south to northern Rio de Janeiro. As early as the mid-1800s, however, it was rare near settled areas (Burmeister 1856, Collar et al. 1992). The range continued to contract, due to habitat loss and from hunting pressure. Natural populations persisted in Rio de Janeiro until at least 1963 (Sick 1969, Sick 1972, Collar et al. 1992), and in Minas Gerais until the late 1980s (Collar et al. 1992). Elsewhere natural populations persisted in southern Bahia and in Espírito Santo, but at only a few sites.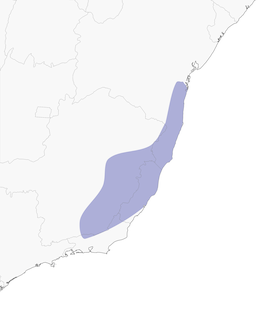 Recommended Citation
Bernardo, C. S. S. (2011).
Red-billed Curassow
(
Crax blumenbachii
), version 1.0. In Neotropical Birds Online (T. S. Schulenberg, Editor). Cornell Lab of Ornithology, Ithaca, NY, USA.
https://doi.org/10.2173/nb.rebcur1.01