SPECIES
Scrub Nightjar
Nyctidromus anthonyi
Ema Nakao Nakao
Version: 1.0 — Published September 23, 2011
Distribution
Welcome to Birds of the World!
You are currently viewing one of the free accounts available in our complimentary tour of Birds of the World. In this courtesy review, you can access all the life history articles and the multimedia galleries associated with this account.
For complete access to all accounts, a subscription is required.
Already a subscriber? Sign in
Distribution in the Americas
The Scrub Nightjar occurs in southwestern Ecuador and northwestern Peru, where it also occurs in the Marañón valley (Ridgely and Greenfield 2001a, Schulenberg et al. 2007). It generally is resident, although there may be local movements in response to rains (Cleere 1998).
Elevational range is from sea level to 800 m (Robbins et al. 1994, Schulenberg et al. 2007).
Distribution outside the Americas
Native to Ecuador and Peru (Birdlife 2009a).
Restricted habitat range to arid, open ranges with adjacent areas of grass, shrubs and light woodlands (Robbins et al. 1994; Ridgely and Greenfield 2001a, Cleere 2006).
There is no fossil history of the Scrub Nightjar; little also is known about the fossil history of caprimulgids.
South Africa unveiled its very first evidence of a nightjar when an isolated coracoid bone was discovered 110 kilometers north northwest of Cape Town in an archaeological site called the Varswater Formation of Langebaanweg (Manegold 2003). The fossil coracoid bone has derived traits in bone structure with Caprimulginae, but it is impossible to determine if the specimen is a part of the Caprimulginae stem lineage, or if it is a closely related ancestor of Caprimulgidae (Manegold 2003). The coracoid has several shared and distinct characteristics with currently living caprimulginae and is believed to belong to a medium-sized nightjar (Manegold 2003).
Several bones of at least two caprimulgid species have been discovered and dated for their existence in archaeological history (Manegold 2003):
Two fragmentary coracoids – Eocene of France
Isolated bones (not specified) – Eocene of North America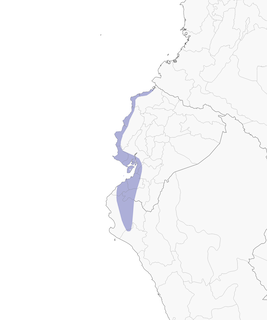 Recommended Citation
Nakao, E. N. (2011).
Scrub Nightjar
(
Nyctidromus anthonyi
), version 1.0. In Neotropical Birds Online (T. S. Schulenberg, Editor). Cornell Lab of Ornithology, Ithaca, NY, USA.
https://doi.org/10.2173/nb.scrnig1.01