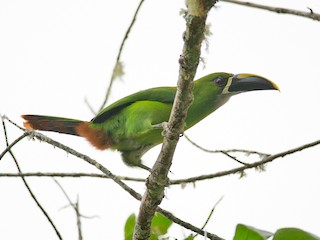 Southern Emerald-Toucanet
Aulacorhynchus albivitta
Thomas S. Schulenberg, A. M. Contreras-González, Claudia I. Rodríguez-Flores, Carlos A. Soberanes-González, Marîa del Coro Arizmendi, and Kolten Powell
Version: 1.0 — Published September 15, 2017
Welcome to Birds of the World!
You are currently viewing one of the free accounts available in our complimentary tour of Birds of the World. In this courtesy review, you can access all the life history articles and the multimedia galleries associated with this account.
For complete access to all accounts, a subscription is required.
Already a subscriber? Sign in
Southern Emerald-Toucanet, a small toucan of the Andes, is the South American counterpart to Northern Emerald-Toucanet (Aulacorhynchus prasinus) of Central America. Like other species of Aulacorhynchus, it is primarily bright green, with a white or blue throat, and rufous undertail coverts and rufous tips to the rectrices. This species is quite variable geographically, containing subspecies. The subspecies differ subtly in size, and more dramatically in the color of the throat (white, pale gray, blue, or black) and the pattern of the bill. The bill is black and yellow in all populations, but the extent of the yellow may cover most of the culmen (most subspecies) or be restricted to the tip of the bill in some populations. Southern Emerald-Toucanet typically forages on fruit and small vertebrates in humid forest, frequently moving together in small flocks. The biology of this species presumably is very similar to that of Northern Emerald-Toucanet, but, in contrast to the Central American species, Southern Emerald-Toucanet is much less well-known.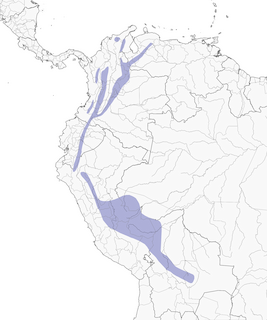 Recommended Citation
Schulenberg, T. S., A. M. Contreras-González, C. I. Rodríguez-Flores, C. A. Soberanes-González, M. d. C. Arizmendi, and K. Powell (2017).
Southern Emerald-Toucanet
(
Aulacorhynchus albivitta
), version 1.0. In Neotropical Birds Online (T. S. Schulenberg, Editor). Cornell Lab of Ornithology, Ithaca, NY, USA.
https://doi.org/10.2173/nb.souemt1.01