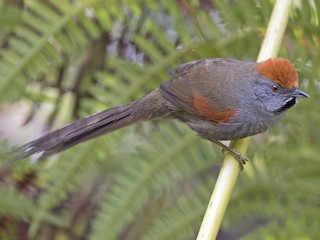 Spix's Spinetail
Synallaxis spixi
Teresa Pegan
Version: 1.0 — Published July 13, 2012
Welcome to Birds of the World!
You are currently viewing one of the free accounts available in our complimentary tour of Birds of the World. In this courtesy review, you can access all the life history articles and the multimedia galleries associated with this account.
For complete access to all accounts, a subscription is required.
Spix's Spinetail is endemic to the Atlantic Forest of southeastern Brazil, northeastern Argentina, eastern Paraguay, and Uruguay. It is a relatively standard Synallaxis spinetail in morphology, with a long strongly graduated tail, largely grayish underparts, a dark throat patch, rufous crown and wing coverts, and otherwise dark olive-brown upperparts, wings, and tail. Spix's Spinetail is most easily located by voice, a rapidly delivered whit, di-di-di, which can be repeated monotonously for long periods, especially in response to audio playback. This spinetail is an inhabitant of second growth, cerrado, and other relatively open areas, although it typically remains fairly well concealed in dense vegetation, low near the ground.
Though it sometimes goes by the onomatopeoic name "Chicli Spinetail", this is unfortunate because the complex song does not sound like "chicli." This name was probably originally applied to (and is more appropriate for) the more common and widespread Sooty-fronted Spinetail (Synallaxis frontalis) (Ridgley and Tudor 1994).
Other names for this species in Brazil include João-tiriri, João-tenenem, Bentereré, or Bentererê (Sick 1993).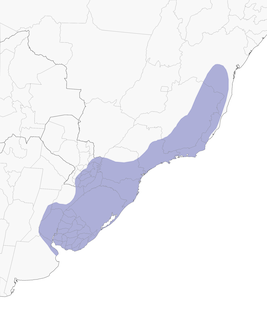 Recommended Citation
Pegan, T. (2012).
Spix's Spinetail
(
Synallaxis spixi
), version 1.0. In Neotropical Birds Online (T. S. Schulenberg, Editor). Cornell Lab of Ornithology, Ithaca, NY, USA.
https://doi.org/10.2173/nb.spispi1.01