Tawny-collared Nightjar
Antrostomus salvini
Thomas S. Schulenberg, Marîa del Coro Arizmendi, Claudia I. Rodríguez-Flores, Carlos A. Soberanes-González, Andy Johnson, and Jake Sousa
Version: 1.0 — Published October 24, 2014
Welcome to Birds of the World!
You are currently viewing one of the free accounts available in our complimentary tour of Birds of the World. In this courtesy review, you can access all the life history articles and the multimedia galleries associated with this account.
For complete access to all accounts, a subscription is required.
Endemic to eastern Mexico, Tawny-collared Nightjar is a common to fairly common resident of dense, scrubby woodland and thorn forest in arid to semihumid regions. It also can be found in slightly more humid forests in the southern portions of its range. This nightjar has a distinct cinnamon hindcollar; otherwise the upperparts are cryptically mottled with brown, black and gray. The scapulars appear paler, comprising black feathers with conspicuous whitish fringing. The primaries are barred rufous and black, and the underparts are blackish with mottled white. Its dark crown and black throat contrast with a pale forecollar, and the three outer rectrices have broad white tips (buffy in females). Tawny-collared Nightjar formerly was considered conspecific with Yucatan Nightjar (Antrostomus badius), which has more extensive white in the tail corners and a paler crown and scapulars.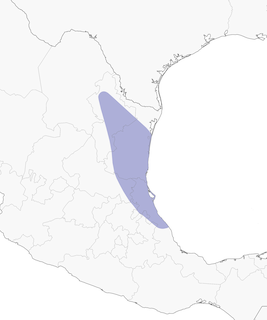 Recommended Citation
Schulenberg, T. S., M. d. C. Arizmendi, C. I. Rodríguez-Flores, C. A. Soberanes-González, A. Johnson, and J. Sousa (2014).
Tawny-collared Nightjar
(
Antrostomus salvini
), version 1.0. In Neotropical Birds Online (T. S. Schulenberg, Editor). Cornell Lab of Ornithology, Ithaca, NY, USA.
https://doi.org/10.2173/nb.tacnig1.01