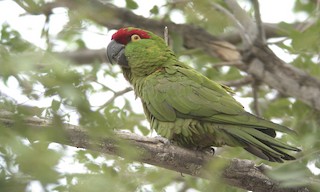 Thick-billed Parrot
Rhynchopsitta pachyrhyncha
Rene A. Valdes-Peña, Sonia G. Ortiz-Maciel, and Javier Cruz-Nieto
Version: 1.0 — Published April 22, 2011
Species names in all available languages
Species names in all available languages

| Language | Common name |
| --- | --- |
| Dutch | Araparkiet |
| English (United States) | Thick-billed Parrot |
| French | Conure à gros bec |
| German | Kiefernsittich |
| Japanese | ハシブトインコ |
| Norwegian | tykknebbparakitt |
| Polish | meksykana czerwonoczelna |
| Russian | Толстоклювый арара |
| Serbian | Debelokljuni papagaj |
| Slovak | arara červenočelá |
| Spanish | Cotorra Serrana Occidental |
| Spanish (Mexico) | Cotorra Serrana Occidental |
| Spanish (Spain) | Cotorra serrana occidental |
| Swedish | tjocknäbbad parakit |
| Turkish | Çam Papağanı |
Mexico has a resident species of parrot that is one of the northernmost psittacids of the Americas: the Thick-billed Parrot (Rhynchopsitta pachyrhyncha). This species is endemic to temperate forests of northern Mexico, and it also is Endangered according to BirdLife International. Mexico also considers it to be Endangered in its official laws, as does the U.S. Fish and Wildlife Service.
Thick-billed Parrots inhabit nearly the full length of the Sierra Madre Occidental, occurring in the most important timber producing areas of Mexico. The species is closely dependent on pine forests for food. They nest in dispersed groups in the cavities of tree snags.
The breeding range of the Thick-billed Parrot presently is limited to the states of Chihuahua and Durango, Mexico. During the non-breeding season (late November to April), the species is reported to occur in the south-central portions of the Sierra Madre Occidental. All documented Thick-billed Parrots nesting sites have been in forests above 2000 m. The species also formerly occurred in the pine forests of the southwestern U.S., where attempts for reintroduction in the 1980s in the Chiricahua Mountains were unsuccessful. The consensus is that the historic reports of this species in southwestern New Mexico and southeastern Arizona are the results of sporadic visits from Mexico; there are no historical breeding records in the U.S.
The diet of the Thick-billed Parrot consists primarily of the seeds of several species of pine, especially Mexican White Pine, Durango Pine, Arizona Pine, and Lumholz Pine. Acorns stored in Acorn Woodpecker granaries also are part of the diet. When foraging, thick-bills form small flocks. The Thick-billed Parrot, unlike most parrots, migrates relatively long distances. The only observations in the southern portion of the range are from winter and early spring. During the winter, the species is nomadic, which seems to be influenced by the variable availability of pine seeds.
Conservation efforts have been focused on land protection, converting breeding sites to official Natural Protected Areas. With this approach, it has been possible to protect the three most important nesting areas of the species.
New attempts for reintroduction into the US are planned for this year, using wild parrots from nesting colonies and juveniles from flocks from Chihuahua, Mexico, and translocating them north of the border to the Chiricahua Mountains in Arizona, U.S. Hopefully a new population will become established there and breed in the new habitat, increasing in this way the distribution range and habitat use of the species.
Most information for this species account comes from Snyder et al. (1999), other contributors, and data owned by ITESM (Instituto Tecnologico y de Estudios Superiores de Monterrey), which is in charge of the Thick-billed Parrot Project in Mexico.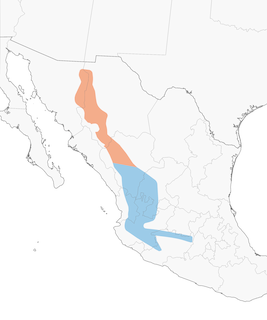 Recommended Citation
Valdes-Peña, R. A., S. G. Ortiz-Maciel, and J. Cruz-Nieto (2011).
Thick-billed Parrot
(
Rhynchopsitta pachyrhyncha
), version 1.0. In Neotropical Birds Online (T. S. Schulenberg, Editor). Cornell Lab of Ornithology, Ithaca, NY, USA.
https://doi.org/10.2173/nb.thbpar.01