Species names in all available languages
Species names in all available languages

| Language | Common name |
| --- | --- |
| Dutch | Tropische Koningstiran |
| English (United States) | Tropical Kingbird |
| French | Tyran mélancolique |
| German | Trauerkönigstyrann |
| Icelandic | Gallhersir |
| Japanese | オリーブタイランチョウ |
| Norwegian | tropekongetyrann |
| Polish | tyran melancholijny |
| Portuguese (Brazil) | suiriri |
| Portuguese (Portugal) | Suiriri |
| Russian | Королевский тиранн |
| Serbian | Tropska kraljevska tiranka |
| Slovak | postriežkar čiernozobý |
| Spanish | Tirano Melancólico |
| Spanish (Argentina) | Suirirí Real |
| Spanish (Chile) | Suirirí real |
| Spanish (Costa Rica) | Tirano Tropical |
| Spanish (Cuba) | Pitirre tropical |
| Spanish (Ecuador) | Tirano Tropical |
| Spanish (Mexico) | Tirano Pirirí |
| Spanish (Panama) | Tirano Tropical |
| Spanish (Paraguay) | Suiriri real |
| Spanish (Peru) | Tirano Tropical |
| Spanish (Spain) | Tirano melancólico |
| Spanish (Uruguay) | Benteveo Real |
| Spanish (Venezuela) | Pitirre Chicharrero |
| Swedish | tropisk kungstyrann |
| Turkish | Tropikal Tiran |
SPECIES
Tropical Kingbird
Tyrannus melancholicus
Alex. E. Jahn, Philip C. Stouffer, and R. Terry Chesser
Version: 1.0 — Published April 5, 2013
Distribution
Welcome to Birds of the World!
You are currently viewing one of the free accounts available in our complimentary tour of Birds of the World. In this courtesy review, you can access all the life history articles and the multimedia galleries associated with this account.
For complete access to all accounts, a subscription is required.
Distribution in the Americas
In the Neotropics, Tropical Kingbirds breed in Mexico from Sonora and southwestern Chihuahua, Tamaulipas, and Nuevo León (Howell and Webb 1995) south along both coastal slopes, the Yucatán Peninsula, and central Mexico, and then south throughout Central America. In South America, kingbirds breed in much of the lowlands east of the Andes south to central Argentina (Fjeldså and Krabbe 1990, Ridgely and Tudor 1994, Stouffer and Chesser 1998), and west of Andes south to central Peru. Tropical Kingbirds also breed on most islands off of the Middle American coast, and on Caribbean islands from the Netherlands Antilles (Aruba, Curaçao, Bonaire) east to Tobago, Trinidad, and Grenada, where they are rare and may no longer breed (Stouffer and Chesser 1998). Tropical Kingbird predominantly occurs in the lowlands, but this species is reported up to 2000 m in Costa Rica (Fitzpatrick 1983), and 3100 m in Colombia (Fjeldså and Krabbe 1990).
Tropical Kingbirds breeding in Arizona and northwestern Mexico migrate south in autumn and appear to overwinter at least as far north as central Sinaloa (Stouffer and Chesser 1998). Southern populations in South America migrate northward for the southern winter, vacating central and southern South America (see Behavior).
The breeding range may be expanding northwards (e.g., to the Tucson, Arizona, area in the 20th century, where it was first discovered nesting in 1938; Phillips 1994). The breeding range apparently expanded into Texas in the 1990s, with several observed nesting in the Brownsville area beginning in 1991 (see Stouffer and Chesser 1998). There now are regular sightings in spring and summer (April-July) in southern California, Arizona, and along the Texas Gulf Coast (eBird 2013).
Distribution outside the Americas
Endemic to the Americas.
Tropical Kingbird occupies a variety of primarily open habitats, such as cerrado (Jahn et al. 2010c), savannas (Sanaiotti and Cintra 2001), forest edge (Lopez de Casenave et al. 1998), areas with isolated or scattered trees and hedges, residential and urban areas, roadsides, forest borders, forest clearings (but also interior of dry forest fragments; Lasky and Keitt 2010), thorn scrub, scrubby woodland, second growth, beach scrub, and marsh and river edges (Fitzpatrick 1983, Ridgely and Gwynne 1989, Howell and Webb 1995, Stouffer and Chesser 1998, Mobley 2004, Lasky and Keitt 2012).
No information available for the Neotropics.
Fossils from the late Pleistocene found at Inciarte Tar Seeps, Zulia state, Venezuela (D.W. Steadman and J.A. Oswald, unpublished data).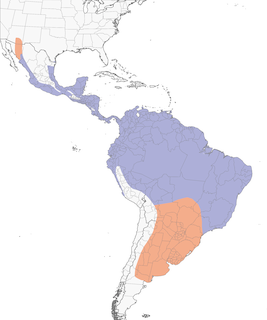 Recommended Citation
Jahn, A. E., P. C. Stouffer, and R. T. Chesser (2013).
Tropical Kingbird
(
Tyrannus melancholicus
), version 1.0. In Neotropical Birds Online (T. S. Schulenberg, Editor). Cornell Lab of Ornithology, Ithaca, NY, USA.
https://doi.org/10.2173/nb.trokin.01