SPECIES
Tufted Tit-Tyrant
Anairetes parulus
Galen A. Dolkas and Trent J. Neiman
Version: 1.0 — Published October 30, 2015
Distribution
Welcome to Birds of the World!
You are currently viewing one of the free accounts available in our complimentary tour of Birds of the World. In this courtesy review, you can access all the life history articles and the multimedia galleries associated with this account.
For complete access to all accounts, a subscription is required.
Distribution in the Americas
Tufted Tit-Tyrant is widespread in western South America, from southern Colombia south to Chile and Argentina. It occurs in the high Andes from Colombia to Chile and Argentina, but also in the lowlands of central Chile, and in Patagonia in Argentina.
Tufted Tit-Tyrant generally is resident; some authors report that patagonicusis partially migratory in the nonbreeding season, when it occurs north to Catamarca, Tucumán, and Salta in northwestern Argentina (Johnson 1967, Traylor 1979).
The elevational range of Tufted Tit-Tyrant in Colombia is 2100-3600 m, but it primarily occurs from 3000-3400 m (Hilty and Brown 1986); it occurs mostly from 2500-3500 m in Ecuador (Ridgely and Greenfield 2001a); in Peru the elevational distribution is 2400-4400 m; it is reported in Bolivia from 1900-4300 m (Hennessey et al. 2003); and in Chile it occurs from sea level up to 2000 m (Jaramillo 2003).
Distribution outside the Americas
Endemic to the Americas.
Tufted Tit-Tyrant occupies a variety of shrubby habitats and forest edge. In the northern and central Andes it occurs in humid and semihumid montane scrub, at forest edge, and in open woodland such as Polylepis forests (Hilty and Brown 1986, Ridgely and Greenfield 2001a, Schulenberg et al. 2010). Farther south it occurs in similar habitats, as well as in desert scrub and in city gardens (Johnson 1967, Jaramillo 2003). A habitat generalist, but prefers open shrubland (Ralph 1985, Díaz et al. 2005) or open forests (Ralph 1985). At one site in northern Patagonia, the abundance of Tufted Tit-Tyrant was positively correlated with the shrubs Lomatia spp. and with Embothrium spp., and may be correlated with Diostea juncea (Ralph 1985).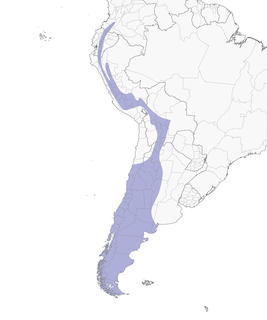 Recommended Citation
Dolkas, G. A. and T. J. Neiman (2015).
Tufted Tit-Tyrant
(
Anairetes parulus
), version 1.0. In Neotropical Birds Online (T. S. Schulenberg, Editor). Cornell Lab of Ornithology, Ithaca, NY, USA.
https://doi.org/10.2173/nb.tuttyr1.01