Vervain Hummingbird
Mellisuga minima
Christopher J. Clark
Version: 1.0 — Published March 4, 2009
Welcome to Birds of the World!
You are currently viewing one of the free accounts available in our complimentary tour of Birds of the World. In this courtesy review, you can access all the life history articles and the multimedia galleries associated with this account.
For complete access to all accounts, a subscription is required.
Already a subscriber? Sign in
Vervain Hummingbird (Mellisuga minima Linnaeus).
Spanish: Zumbadorcito,
French: Colibri nain
Native to Jamaica and Hispaniola and common in human-altered environments, the Vervain Hummingbird has been well known to ornithologists since at least the early 1700's (Brisson 1760). The Vervain Hummingbird was one of the first 17 hummingbird species given a Latin binomial by Linnaeus (1758), and then owned the title of 'smallest bird in the world' for nearly 150 years (e.g. Gould 1861). In addition to being named for its minute size (minima means 'least' in Latin), this hummingbird derives its name from the hummingbird trait of drinking nectar from flowers: 'Melli' is Latin for 'honey' whereas 'suga' means 'to suck' (Tyrrell and Tyrrell 1990).
The discovery of its putative sister taxon, the dainty and more showy Bee Hummingbird (Mellisuga helenae), stole the Vervain's title as smallest bird (Ridgway 1892), and without any of the luminous plumage found on most hummingbird species, the Vervain has since attracted little scientific interest specifically in it. One feature noted by many 19th century naturalists is the Vervain's song, which can be heard descending from high up in the canopy of relatively tall trees, and has been described as "loud and penetrating" (Verrill and Verrill 1909), and as "a prolonged twittering" (Downer and Sutton 1990). This is often the only evidence of the bird's presence, as the tiny, still form of a singing male can be difficult or impossible to locate visually.
Despite how common this species is, no-one (scientist or amateur) has studied this species in any detail. For a scientist this would pose a practical challenge because its small size makes it difficult to catch or collect in significant numbers. References to this species are widely scattered in the natural history literature, especially in pre-1900 accounts of ornithologists visiting the Caribbean. Some of the most important contributions are from Gosse (1847), Bond (1928; 1950), and Lack (1976). Tyrrell and Tyrrell (1990) provide superb photographs of this species. The other noteworthy source of information has come from residents of Jamaica, who have published a large number of valuable observations in the Gosse Bird Club Broadsheet. The information presented here is drawn from all of these sources, as well as recent field-work in Jamaica (CJC).
Vervain Hummingbird photo © Miguel A. Landestoy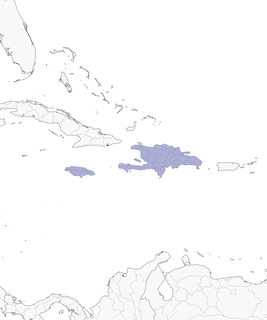 Recommended Citation
Clark, C. J. (2009).
Vervain Hummingbird
(
Mellisuga minima
), version 1.0. In Neotropical Birds Online (T. S. Schulenberg, Editor). Cornell Lab of Ornithology, Ithaca, NY, USA.
https://doi.org/10.2173/nb.verhum1.01