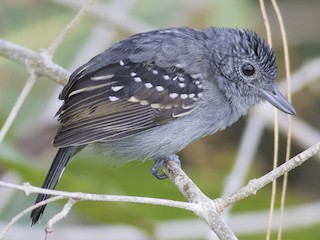 Black-crowned Antshrike
Thamnophilus atrinucha
Corey E. Tarwater and J. Patrick Kelley
Version: 1.0 — Published June 14, 2010
Welcome to Birds of the World!
You are currently viewing one of the free accounts available in our complimentary tour of Birds of the World. In this courtesy review, you can access all the life history articles and the multimedia galleries associated with this account.
For complete access to all accounts, a subscription is required.
Already a subscriber? Sign in
Thamnophilus derives from the Greek words "thamnos" (shrub) and "philos" (loving). This scientific moniker accurately depicts what observers often see of Western Slaty-Antshrikes. They are not the colorful tropical birds on the top of tourist lists, but they make up for this in their attitude. Western Slaty-Antshrikes are highly vocal (and territorial) and are one of the first species heard when walking into a tropical forest for the first time. They are considered insectivores, although when they get lucky, they catch small lizards. They can be aggressive birds. Individuals engaged in aggressive territorial disputes on occasion may hit into each other, landing on the ground while peaking and scratching at each other. Nevertheless, most disputes are settled by singing. They are year-round territorial birds, foraging in pairs and with mixed species understory flocks. They have long breeding seasons, small clutch sizes, extended post-fledging parental care, and delayed dispersal. They can be found in primary and secondary tropical forests throughout Central and northern South America. To date most of the detailed studies of Western Slaty-Antshrikes have focused on populations in central lowland Panama; therefore the studies outlined in this species account are biased towards this region.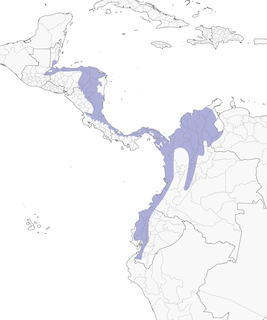 Recommended Citation
Tarwater, C. E. and J. P. Kelley (2010).
Black-crowned Antshrike
(
Thamnophilus atrinucha
), version 1.0. In Neotropical Birds Online (T. S. Schulenberg, Editor). Cornell Lab of Ornithology, Ithaca, NY, USA.
https://doi.org/10.2173/nb.wesant1.01