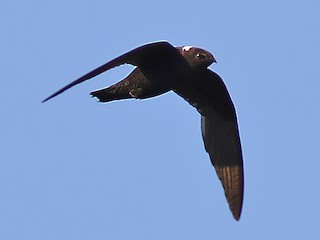 White-naped Swift
Streptoprocne semicollaris
Paul van Els
Version: 1.0 — Published February 8, 2013
Welcome to Birds of the World!
You are currently viewing one of the free accounts available in our complimentary tour of Birds of the World. In this courtesy review, you can access all the life history articles and the multimedia galleries associated with this account.
For complete access to all accounts, a subscription is required.
Endemic to West Mexico, White-naped Swift is large and completely dark, save for a striking white hindcollar, which is rarely visible from below. A fairly common resident from 1500-3000 m, White-naped Swift is found primarily in arid highlands, but it is far-ranging and often wanders into humid coastal lowlands. Its flight is quick and powerful, with relatively slow wingbeats. It may soar for extended periods without flapping. It has a square tipped (or slightly concave) tail, notably less forked than that of the similar White-collared Swift (Streptoprocne zonaris), and its vocalizations - loud chatters and shrieks - generally are deeper than those of White-collared. While adult White-collared swifts are easily distinguished by their namesake collar, juveniles of that species may lack them and appear all dark from below. Streptoprocne swifts nest colonially in caves (especially of limestone), sinkholes, and similar structures, often in the vicinity of waterfalls. The gap in the geographic range of White-naped Swift may be explained by a lack of such suitable habitat.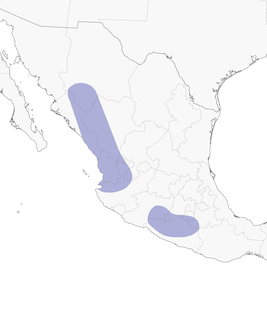 Recommended Citation
van Els, P. (2013).
White-naped Swift
(
Streptoprocne semicollaris
), version 1.0. In Neotropical Birds Online (T. S. Schulenberg, Editor). Cornell Lab of Ornithology, Ithaca, NY, USA.
https://doi.org/10.2173/nb.whnswi1.01