SPECIES
White-throated Flycatcher
Empidonax albigularis
John van Dort
Version: 1.0 — Published December 14, 2018
Appearance
Welcome to Birds of the World!
You are currently viewing one of the free accounts available in our complimentary tour of Birds of the World. In this courtesy review, you can access all the life history articles and the multimedia galleries associated with this account.
For complete access to all accounts, a subscription is required.
Already a subscriber? Sign in
Distinguishing Characteristics
White-throated Flycatcher is a medium-sized, distinctly brownish Empidonax flycatcher, with buffy wing bars in fresh plumage, which become thinner and paler when worn. The primary projection is short. The complete, thin eyering is pale buff (rarely whitish). The flanks and undertail coverts typically show a buffy wash. White-throated Flycatcher is a small tyrannid, and at 11.3-12.6 cm in length (Ridgway 1907, Moore 1940), it is a medium-sized species of Empidonax. The white throat contrasts with a diffuse dull olive to brownish breast band. The bill is wide and moderately long for an Empidonax; the maxilla is blackish, and mandible is dull yellow-orange or pinkish on lower mandible. The upper parts are brownish, becoming brownish gray with wear; the crown often is darker due to the dusky centers of the crown feathers. The underparts are whitish buff, darker on the flanks and undertail coverts. The breast band is less distinct and the belly is less yellowish with wear. The underwing coverts are buff. White-throated Flycatcher has an indistinct (sometimes lacking), pale buffy eyering. The eyering, wingbars, and breast band are most conspicuous in fresh, spring birds. The tarsi and toes are dusky brown. The sexes are alike in appearance. Immatures are browner above, yellower below, and the wingbars are buff or cinnamon and broader than in adults. The typical song is a snappy rrrrreah!; the typical call a buzzy shrrt (see Vocalizations).
Alder (Empidonax alnorum) and Willow (Empidonax traillii) flycatchers are the most similar species to White-throated Flycatcher. Both species are common transients and/or winter visitors in the range of White-throated Flycatcher; between September and May, identification of White-throated Flycatcher in many parts of its range should focus on eliminating these two species. Western subspecies of Willow Flycatcher are especially similar. Both Willow and Alder flycatchers have white throats but have longer primary projection than White-throated Flycatcher, show paler (whiter) wingbars, and lack the buffy wash on the flanks and undertail coverts. The most straightforward way to separate these species is by their markedly different vocalizations. All three species call frequently, and Willow Flycatcher regularly sings on the wintering grounds, especially just before spring migration.
The following description is based on Ridgway (1907):
Adult: Sexes similar. Above plain brownish olive or olive brown, the crown slightly darker and duller. Auricular region and sides of neck similar in color to crown but paler, gradually fading below into the dull white of chin and throat; lores and indistinct orbital ring dull buffy whitish, the former tinged or intermixed with dusky grayish brown near anterior angle of eye. Wings darker grayish brown, the middle and greater coverts broadly tipped with light buffy brown or dull brownish buffy, forming two conspicuous wingbars; the secondaries edged (except basally) with pale buffy grayish or pale dull grayish buff. Tail deep grayish brown, the outer webs of rectrices passing into light brownish olive on edges. Breast pale buffy olive brownish, darker laterally, fading into paler buffy brownish on sides and flanks; rest of underparts pale buffy yellow or yellowish buff (abdomen sometimes approaching whitish), deepening into brownish buff on vent, undertail coverts, and posterior portion of flanks. Axillars and underwing coverts brownish buffy, deepening into cinnamon buff on margin of wing; inner webs of remiges broadly edged with buff.
Immature: Essentially like adult, but upperparts more brownish, wingbars cinnamon, secondaries broadly margined with pale buffy brown, and underparts more buffy.
Griscom (1932) adds to this:
"This rare and little-known species is one of the exceedingly critical members of the genus, and numerous authors have fallen into error in treating it, among them unfortunately myself. The following summary is offered in the hope that it may prove helpful to future workers. Specific Characters.—Wing and tail proportions normal; tail double-rounded, with conspicuously lighter outer webs to outer pair of tail-feathers; bill very broad, width at base more than three-fourths the length of exposed culmen; size small (wing 60–63); outer primary averaging 5 mm. shorter than 5th, about as long as 4th; bend of wing, under wing-coverts and thighs cinnamon-buff; brownest member of the genus above; throat whitish in marked contrast with the abruptly darker chest."
Little information, but many adults throughout range in very worn condition by the end of the breeding season in July and August.
Iris: dark brown (Sutton 1951)
Bill: maxilla black; mandible flesh orange (Stiles and Skutch 1989) or yellowish pink, distal half often dusky; mouth lining orange (Stiles and Skutch 1989)
Tarsi and toes: blackish
Total length: 12 cm (Stiles and Skutch 1989), 12.5-14 cm (Howell and Webb 1995).
Mass: male, 10.4-11 g (n = 2; Sutton 1951, Dickerman 1958); female, 11.0 g (n = 1; Dickerman 1958).
In the following table, all measurements are in mm. Data sources: 1Ridgway (1887); 2Ridgway (1907): Costa Rica; 3Moore (1940): Chihuahua-Durango; 4Moore (1940): Guanajuato-Honduras; 5Moore (1940): Chiapas-Honduras; 6Moore (1940): Veracruz, Mexico; 7Moore (1940): Veracruz, Puebla, Mexico; 8Ridgway (1907): western Panama (Boquete).
Measurements from Ridgway (1887), Ridgway (1907) and Moore (1940).
Subspecies
Length
Wing
Tail
Exposed Culmen
Tarsus
Middle Toe
timidus
male (n=1)1
123
62
55.5
11
16
10
male (n=11)3
62.5
54.6
10.2
16.5
female (n=5)3
58.7
52.0
10.1
15.8
albigularis
male (n=3)1
118-126 (121)

60-62 (61)

52-54.5 (53.2)
11-12.5 (11.7)
16.5-17.5 (16.8)

9-10

male (n=11)4
59.5
49.0
9.5
15.4
(9.7)

female (n=2)1

113

57.5-60 (58.8)

51-55.5 (53.3)

11.5

16-16.5 (16.3)
9.5
female (n=6)5
55.8
48.9
9.6
15.6
australis
male (n=7)6

61.3

53.6

10.3

16.1

male (n=9)2

66.4

53.6

11.7

19.9

9.3
male (n=8)8
66.6
54.1
12.2
17
9.6

female (n=3)7

59.6

52.6
10.3
15.8

female (n=7)2

60.8

48.7

11.3

16.1

8.9

female (n=4)8
62.7
51
11.8
16.4
9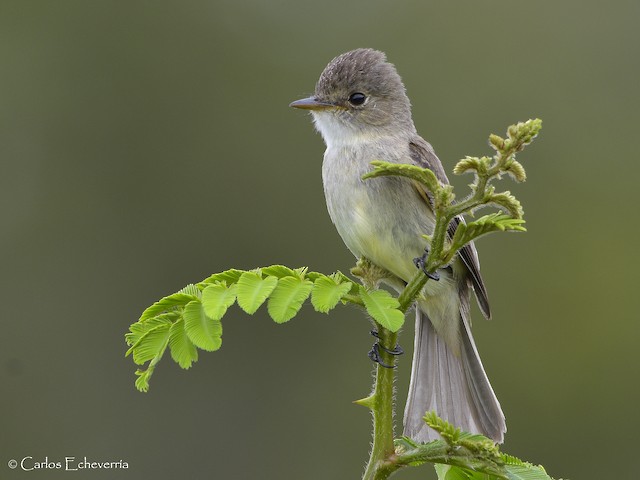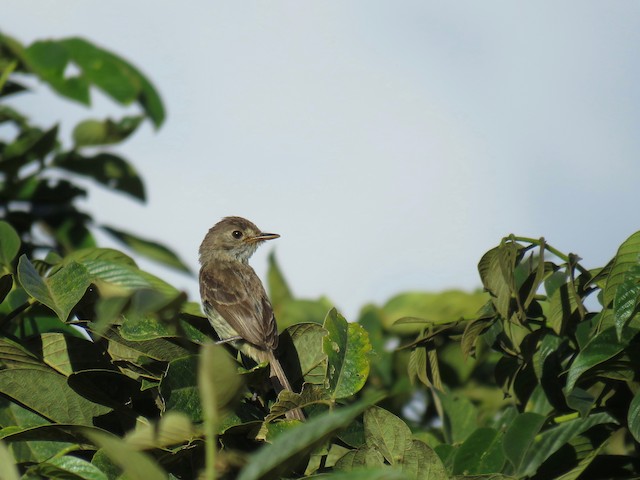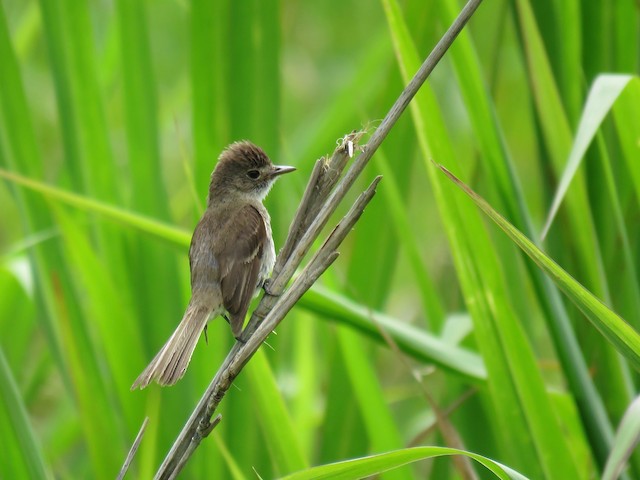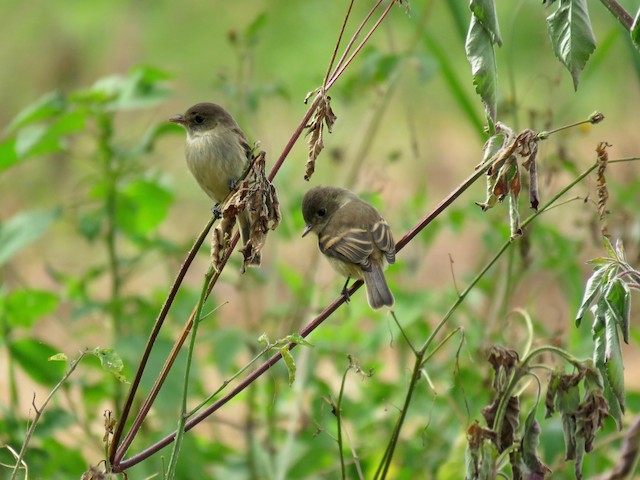 Recommended Citation
van Dort, J. (2018).
White-throated Flycatcher
(
Empidonax albigularis
), version 1.0. In Neotropical Birds Online (T. S. Schulenberg, Editor). Cornell Lab of Ornithology, Ithaca, NY, USA.
https://doi.org/10.2173/nb.whtfly1.01