SPECIES
White-throated Flycatcher
Empidonax albigularis
John van Dort
Version: 1.0 — Published December 14, 2018
Breeding
Welcome to Birds of the World!
You are currently viewing one of the free accounts available in our complimentary tour of Birds of the World. In this courtesy review, you can access all the life history articles and the multimedia galleries associated with this account.
For complete access to all accounts, a subscription is required.
Already a subscriber? Sign in
There is very little published information on the breeding biology of White-throated Flycatcher, apart from a short description of the nest and eggs (Dickerman 1958). The following account is based largely on my personal observations from Honduras.
Phenology
Most territories are occupied between late March and early May; nesting takes place between April and July; and juveniles are typically observed in June and July, sometimes into August.
Pair Formation
On 28 March 2018, a single individual arrived in a brushy field in Honduras to set up a territory. Between 28 March and 10 April, this individual was observed multiple times at this location, advertising a territory. On 11 April, the bird appeared mated for the first time.
Nest Building
Little information. In Honduras (Francisco Morazán), a bird was observed carrying nesting material on 1 May 2018, and in Costa Rica (Cartago), a bird was observed carrying nesting material on 14 May 2018. Forcey and Aragón (2009) report observing a pair constructing a nest in a small meadow in pine-oak forest at 2700 m in Oaxaca on 1 May 2004 and add that "the nest was just beginning to take shape in a large-leafed annual plant about 0.7 m above the ground".
First/Later Broods
A nest with three young was observed in Cartago, Costa Rica on 14 May 2017. Dickerman (1958) collected a breeding pair, their nest, and three eggs in Mexico (Durango) on 7 July 1956. In Honduras, a pair was observed attending one recent fledgling on 30 June 2018, and the same pair produced another single fledgling that was first seen on 19 August 2018; the family was last seen in this territory on 1 September 2018. No information exists regarding the frequency of double broods, but as an altitudinal migrant, the short migration distance probably allows it. A close relative, Willow Flycatcher (Empidonax traillii), which arrives late in spring and spends relatively little time on the breeding grounds, is almost always single-brooded (Sedgwick 2000). On 21 July 2012, a recently fledged juvenile was observed in Guatemala. On 28 July 2012, an adult was observed attending a recent fledgling in Honduras. Another Honduras pair was observed feeding recently fledged young on 3 July 2018, and on 4 June 2014, two pairs with recent fledglings and a single pair were observed in Honduras. In Costa Rica, nesting given as between April and June/July (Stiles and Skutch 1989); however, on 9 August 2017, adults were observed feeding young in Costa Rica.
Nest Site
Selection process
No information.
Microhabitat/Site Characteristics
In Durango, Mexico, a nest was about a meter above the ground in a vertical crotch of a small willow. The shrub was growing at the edge of a stream. A second nest was found in a similar willow that had been partly tipped over and submerged by high waters earlier in the year (Dickerman 1958). In Oaxaca, Forcey and Aragón (2009) observed a nest being built about 0.7 m above the ground in a large-leaved annual plant, in a small open meadow in pine-oak forest at 2700 m.
Nest
Construction Process
No information.
Structure, Composition Matter and Dimensions
Two nests were found and collected in Durango, Mexico (Dickerman 1958). Dickerman writes: "The thick walls of both nests are composed of seedless heads and other fine parts of dried grasses. The cups are lined with similar but finer material. The nests were measured in the field before they were distorted by wrapping and packing for shipment. They measured: outside diameter, 80 and 75 x 85 mm; outside depth, 70 and 64 mm; diameter inside nest cup, 48 and 48 mm; inside depth, 38 and 36 mm."
Eggs
From a nest and eggs collected in Durango, Mexico in 1956: "The color of the eggs is creamy, with a wreath or crown of burnt umber spots and splotches circling the larger end. The three eggs measured 17.2 x 13.2; 17.8 x 12.5; and 17.3 x 13.1 mm" (Dickerman 1958).
Incubation
No information.
Hatching
No information.
Young Birds
No information.
Parental Care
Both parents feed recently fledged young (personal observations).
Brood Parasitism
No information.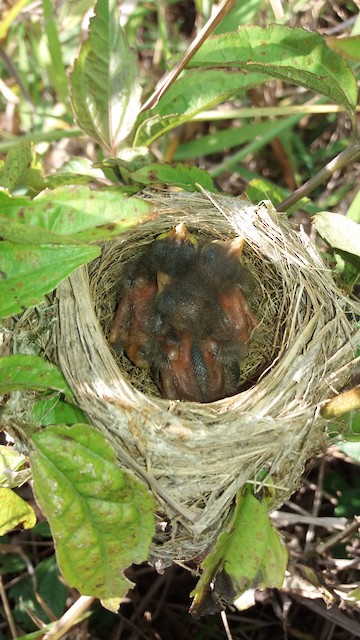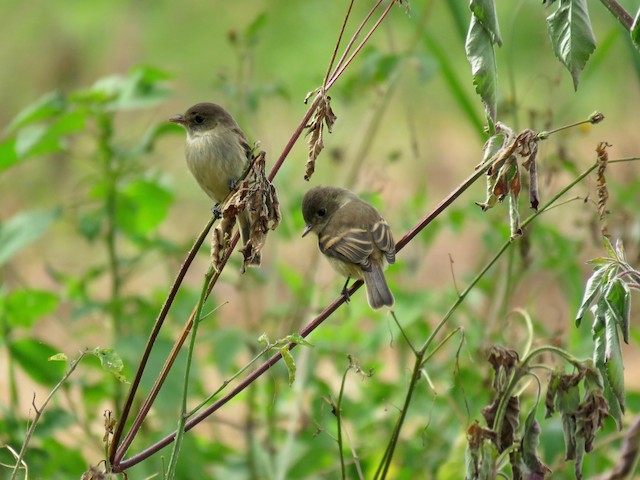 Recommended Citation
van Dort, J. (2018).
White-throated Flycatcher
(
Empidonax albigularis
), version 1.0. In Neotropical Birds Online (T. S. Schulenberg, Editor). Cornell Lab of Ornithology, Ithaca, NY, USA.
https://doi.org/10.2173/nb.whtfly1.01