SPECIES
White-throated Flycatcher
Empidonax albigularis
John van Dort
Version: 1.0 — Published December 14, 2018
Systematics
Welcome to Birds of the World!
You are currently viewing one of the free accounts available in our complimentary tour of Birds of the World. In this courtesy review, you can access all the life history articles and the multimedia galleries associated with this account.
For complete access to all accounts, a subscription is required.
Already a subscriber? Sign in
There is much uncertainty in older references (e.g. Miller and Griscom 1925, Moore 1940) regarding geographic variation in White-throated Flycatcher, at a time when subspecies often were described based on just a handful of specimens, some much older than others. Discussing species limits in Empidonax, Salvin and Godman (1889) point out the difficulty of comparing specimens taken at different times of the year, i.e. the migratory temperate zone species were collected mainly during the northern spring and summer, and the tropical species mainly during the northern winter and early spring. Since then, another problem that has presented itself has been the comparison of specimens collected in the 19th century versus those collected more recently, as Monroe (1968) points out. In a genus of great phenotypic similarity, small sample sizes, individual variation, specimen shrinkage and discoloration of older specimens, and measuring differences from observer bias, all contribute to hamper the definition of subspecies, and the subspecific divisions in White-throated Flycatcher may be in need of revision.
Three subspecies currently are recognized (e.g., Traylor 1979, Dickinson and Christidis 2014, del Hoyo and Collar 2016), although phenotypic differences between populations are minor, and subspecific divisions are not solidly established. Monroe (1968) did not see any significant variation from Chiapas to Nicaragua, and if subspecific divisions valid, then Nicaraguan populations probably are best grouped with nominate albigularis, with which they are in direct contact, rather than with australis, from which they are separated by the Nicaraguan Depression. Moore (1940) speculated about an undescribed dark subspecies from the cloud forest of western Honduras, which Monroe (1968) did not accept, since this species does not occur in cloud forest.
timidus, described as Empidonax timidus Nelson 1900; type locality El Salto, Durango, Mexico. Restricted to northwestern Mexico. Breeds in highlands from southwestern Chihuahua to Nayarit and northern Jalisco; resident from Nayarit and Jalisco to Morelos (Miller et al. 1957, Traylor 1979, Howell and Webb 1995), and reportedly occurring south to Oaxaca in the nonbreeding season (Miller et al. 1957). Characterized by Nelson (1900) as "Much like E. albigularis but larger with broader bill and paler colors". According to Moore (1940), differs from nominate albigularis and from australis in having "(1) upper part paler; (2) wing bands less buffy; (3) flanks brighter buffy-yellowish in early winter plumage; (4) size slightly larger".
albigularis, described as Empidonax albigularis Sclater and Salvin 1859; type locality Dueñas, Guatemala. Breeds in the the highlands of eastern Mexico (southern Tamaulipas to central Veracruz), in southern Mexico (eastern Guerrero and northern Oaxaca and in Chiapas), Guatemala, El Salvador, and Honduras (Miller et al. 1957, Traylor 1979, Howell and Webb 1995). Proposed subspecies axillaris Ridgway 1874 is considered to be a junior synonym of nominate albigularis (Wetmore 1972, Traylor 1979).
australis, described as Empidonax albigularis australis Miller and Griscom 1925; type locality San Rafael del Norte, Nicaragua. Occurs in the highlands of Nicaragua south to western Panama (Chiriquí) (Traylor 1979), although apparently is very local as a breeder within this region (Stiles and Skutch 1989). The upperparts are "slightly more olivaceous, less brown; lores, eye-ring and wing-bars whiter, less brownish buff; chest-band less brownish and consequently less contrasted with the throat; belly, flanks and under tail-coverts yellower, less brown or buff" (Miller and Griscom 1925). This subspecies was described on the basis of one male from Nicaragua, and two males and two females from Costa Rica. Note, however, that the highlands of northwestern Nicaragua are contiguous with the highlands of central Honduras, and separated by the Nicaraguan Depression from the highlands of Costa Rica and western Panama. Thus, the Nicaraguan population would seem to be reproductively isolated from the Costa Rican population, but not from the Honduran population. A comparative review of photos from the Macaulay Library across the species' range does not appear to support these phenotypic differences, and a taxonomic review of subspecies may be in order.
Proposed subspecies subtilis Moore 1940 is a junior synonym of Empidonax difficilis difficilis Pacific-slope Flycatcher (Phillips 1959, Traylor 1979).
White-throated Flycatcher is a species of Empidonax, which currently comprises fifteen species. Phylogenetic analysis of DNA sequence data (but only from mitochondrial genes) indicates that albigularis is basal to the species pair of Alder Flycatcher (Empidonax alnorum) and Willow Flycatcher (Empidonax traillii) (Johnson and Cicero 2002), two species that also have white throats but are slightly larger, with longer wings and paler wing bars. For species such as members of Empidonax, whose songs are innate and not or hardly subject to regional or individual variation, vocal signals are important markers to define species that phenotypically appear quite similar.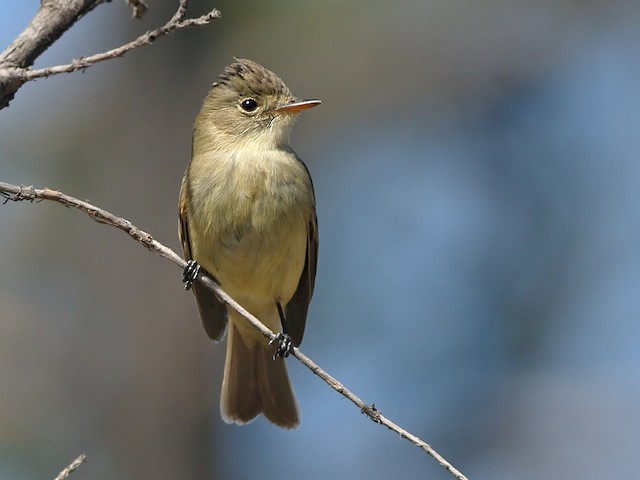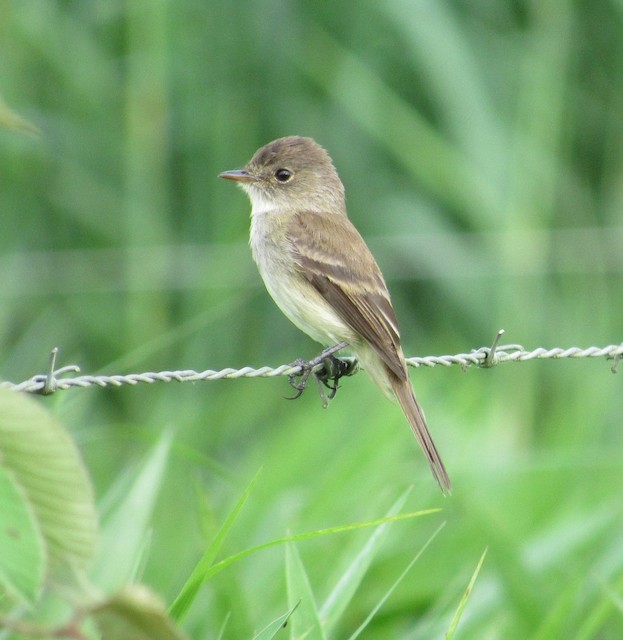 Recommended Citation
van Dort, J. (2018).
White-throated Flycatcher
(
Empidonax albigularis
), version 1.0. In Neotropical Birds Online (T. S. Schulenberg, Editor). Cornell Lab of Ornithology, Ithaca, NY, USA.
https://doi.org/10.2173/nb.whtfly1.01