Species names in all available languages
Species names in all available languages

| Language | Common name |
| --- | --- |
| Croatian | žutoglava amazonka |
| Czech | amazoňan zlatohlavý |
| Dutch | Geelkopamazone |
| English (United States) | Yellow-headed Parrot |
| French | Amazone à tête jaune |
| German | Gelbkopfamazone |
| Japanese | キガシラボウシインコ |
| Norwegian | gulhodeamazon |
| Polish | amazonka żółtogardła |
| Russian | Желтоголовый амазон |
| Serbian | Veliki žutoglavi amazonac |
| Slovak | amazoňan žltohlavý |
| Spanish | Amazona Cabecigualda |
| Spanish (Mexico) | Loro Cabeza Amarilla |
| Spanish (Spain) | Amazona cabecigualda |
| Swedish | gulhuvad amazon/maríasamazon |
| Turkish | Sarı Başlı Amazon |
SPECIES
Yellow-headed Parrot
Amazona oratrix
Janet M. Ruth
Version: 1.0 — Published August 21, 2015
Distribution
Distribution in the Americas
As a native species, Yellow-headed Parrot is endemic to Mexico and northern Central America; it is found in Mexico, Belize, extreme eastern Guatemala, and extreme northwestern Honduras. It occurs on the Pacific slope of Mexico from Jalisco south to south central Oaxaca, and also on all four of the Islas Marías off the coast of Nayarit. On the Gulf slope it occurs from central and southern Tamaulipas, eastern San Luis Potosí south through Veracruz, Tabasco and Campeche, Mexico, to Belize and around Puerto Barios in eastern Guatemala and northwestern Honduras in the Sula Valley (Juniper and Parr 1998). It is a local, sparsely distributed, and uncommon resident throughout most of its range; distribution in eastern part of range poorly documented (Juniper and Parr 1998). They are found primarily in lowlands from sea level to 900 m, with 76% below 400 m (Monterrubio-Rico et al. 2010). See also Historical changes.
Distribution outside the Americas
Endemic to the Americas.
Yellow-headed Parrots inhabit tropical semideciduous, deciduous and riparian forests (including clearings), moist forests, dense gallery forests, dense thorn forest, pine savannas, mangroves, Pacific swamp-forest, evergreen floodplain forest, coastal shrub, and cultivated country with trees (Collar et al. 1992, Lousada and Howell 1996, Juniper and Parr 1998, Monterrubio-Rico et al. 2010). Separate habitat descriptions are available for several subspecies: oratrix inhabits savannas and semiopen habitats with scattered trees, and gallery forest; belizensis occupies pine savanna and adjacent evergreen forest in Belize and the intermediate "guatemalensis" form is found in scrubby woodland and mangroves in northeastern Guatemala and coastal lowlands into extreme northwestern Honduras; hondurensis is found in coastal scrub habitat (Howell and Webb 1995, Lousada and Howell 1996). The use of Caribbean royal palm (Rostonea oleracea) savanna appears to be unique to the population in the peninsula of Punta de Manabique on the Atlantic coast of Guatemala, although the structure is similar to pine savanna (Eisermann 2003).
In the Pacific lowlands of Mexico, the predominant vegetation type within their current distribution was tropical deciduous forest (44.2%); followed by agricultural land and modified areas (32%), and tropical semi-deciduous forest (19.4%) (Marín-Togo et al. 2012).
A study modeled the historical and current range of Yellow-headed Parrots along the Pacific coast of Mexico using ecological niche models with presence records from museum collections and historical sightings compared to surveys in 2003-2008, overlaid on vegetation maps. They estimated historical range at 90,470 km2 and the current range at 18,957 km2, a reduction of 79% (Monterrubio-Rico et al. 2010). These models suggest that its current range on the Pacific coast of Mexico is in three discontinuous, fragmented areas on the coast of Jalisco, the coast of Michoacan and northern Guerrero, and the coast of Oaxaca. By incorporating both presence and absence records in evaluating current distributions Monterrubio-Rico et al. (2010) were able to document that there were areas with suitable habitat where Yellow-headed Parrots were not located, suggesting that factors in addition to habitat loss are involved.
Yellow-headed Parrot now occurs in several small feral populations far from its natural range. There is a small population in southern California; breeding has been reported, but the number of Yellow-crowned Parrots in California may be in decline (Garrett 1997). Small numbers of Yellow-headed Parrots are reported in south Florida, although there may not be a self-sustaining population in this region (Robertson and Woolfenden 1992). Yellow-headed Parrot has been reported on Puerto Rico since the 1970s, where it is considered rare; breeding has been reported, but again it is not certain that there is a self-sustaining population (Raffaele et al. 1998).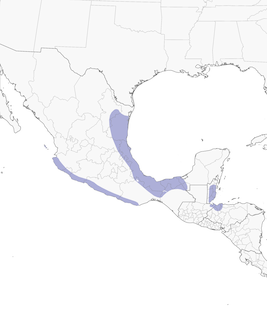 Recommended Citation
Ruth, J. M. (2015).
Yellow-headed Parrot
(
Amazona oratrix
), version 1.0. In Neotropical Birds Online (T. S. Schulenberg, Editor). Cornell Lab of Ornithology, Ithaca, NY, USA.
https://doi.org/10.2173/nb.yehpar.01