We hope you have some downtime around the holiday to take a new Birds of the World feature for a spin! We just released the new Taxonomy Explorer, a major upgrade that checks two big items off our collective wish list: regional filters and visual family index.
These are two of the most-requested features, and the ones we've been most eager to develop. Thanks to a major database upgrade, which took a full year to complete, these features are now integrated into the resource – giving readers a new level of control when viewing species profiles.
The Taxonomy Explorer provides both a visual and text-based navigation of all 10,721 species accounts. It organizes accounts by order and family, provides easy access to subspecies details, and allows users to filter accounts by geographic region, location, and conservation status.


The tool provides limitless exploration of Birds of the World and will be extremely helpful for research, birding, and teaching about birds.
Ready to explore? Click on Taxonomy Explorer link in the header. Try switching between card (illustration) view and text view. Use it to visually explore avian diversity within and across families. Examine the at-a-glance IUCN conservation status of birds within family groups, and use it to identify the most vulnerable species within them. Familiarize yourself with subspecies by tapping the stacked dots on each card.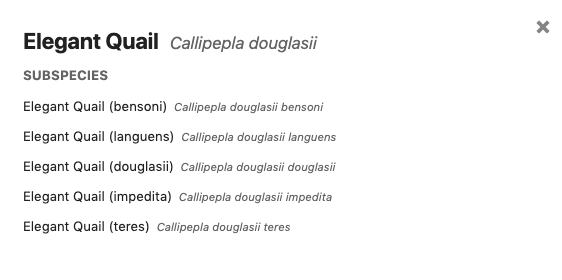 And finally, take advantage of the ability to filter birds by your own county, state, province, country, territory, or dependency to restrict the view to local species.

What's next on our plate? We will soon integrate James A. Jobling's Key to Scientific Names in Ornithology, a tool that will display the derivation and meaning of 8,500 scientific names. This resource provides a treasure trove of Linnaean context that can expand one's grasp of ornithological history and interrelationships. Stay tuned!
All of us here at Birds of the World wish you a safe and peaceful holiday season.