Barry Taylor and Guy M. Kirwan
Version: 1.0 — Published March 4, 2020
Text last updated September 10, 2015
Welcome to Birds of the World!
You are currently viewing one of the free accounts available in our complimentary tour of Birds of the World. In this courtesy review, you can access all the life history articles and the multimedia galleries associated with this account.
For complete access to all accounts, a subscription is required.
Already a subscriber? Sign in
Editor's Note: This is a shorter format account, originally published in HBW Alive. Please consider contributing your expertise to update and expand this account.
The Ash-throated Crake is a widely distributed but secretive species of seasonally flooded wetlands in northern and central South America. Its range is split into two main sections; it is found both to the north and south of the Amazon River with a huge section of unoccupied range in between these disjunct patches. The species is largely gray below with a short bill, pale gray throat, black upperparts with brown fringing on the feathers, and white and black barring on the flanks and undertail. Like many rails, Ash-throated Crake is rarely seen except for when it emerges from dense wetland vegetation to feed on insects and grass seeds, and is most easily detected by its calls and song.
21–24 cm; male 90–114 g, one female 105 g, two unsexed 92–121 g (1 Salvador, S.A. and Di Giacomo, A.G. (2014). Datos de pesos de aves argentinas. Parte 3. Historia Natural. 4(2): 63–88. ). Sexes alike. Slightly smaller P. carolina has white streaks on upperparts , distinctive face pattern , more extensive white flank bars, white and buff undertail-coverts, bright yellow bill , and greenish legs and feet. Neocrex erythrops, the only other sympatric, short-billed crake of similar size with grey breast and barred flanks, has unmarked olive-brown upperparts, olive green bill with red base, and coral red legs and feet. Larger Cyanolimnas cerverai has unpatterned brownish olive upperparts, dark slate flanks with faint white bars, white undertail-coverts, yellowish green bill with red base, and red legs and feet. Immature similar to adult but duller, with brownish wash on grey underparts. One presumed juvenile has off-white chin, predominantly olive brown face, throat, foreneck and underparts, and no barring from flanks to undertail-coverts but deeper brown wash in these regions. Races separated on overall colour and size, albicollis being larger and darker.
Editor's Note: This article requires further editing work to merge existing content into the appropriate Subspecies sections. Please bear with us while this update takes place.

N race previously listed as olivacea, but this older name dubiously applicable (2). Two specimens from SE Peru are as large as nominate, but show plumage characters of typhoeca. Two subspecies recognized.
---
SUBSPECIES
Colombia, Venezuela and Trinidad to the Guianas and extreme N Brazil (N Roraima); recently discovered in NE Ecuador (Sucumbíos) (3 Kirwan, G. M., D. Brinkhuizen, D. Calderón, B., Davis, J. Minns, and I. Roesler (2014). Neotropical notebook. Neotropical Birding 15:46–62. ).
---
SUBSPECIES
E and S Brazil, N and E Bolivia, Paraguay and extreme N Argentina; probably this race in SE Peru.
Editor's Note: Additional distribution information for this taxon can be found in the 'Subspecies' article above. In the future we will develop a range-wide distribution article.
Freshwater marshes, marshy lakes, Moriche swamps, rice fields, drainage ditches, savanna, dry to damp taller grass of grazing lands, tall reeds along roadsides, and secondary growth. In marshy habitats appears to prefer drier areas, and in Surinam regarded as less of a marsh bird than other small rails. Inhabits lowlands up to 1200 m.
Nothing definitely recorded, but some seasonal movements possible in Colombia, records from NE Meta being Dec–Mar and from W Meta Mar–Sept, while birds reported to move into Typha marsh during dry season at Ciénaga Grande. In French Guiana an exhausted bird was found on a bridge in Jul.
Insects and their larvae (Lepidoptera, Formicidae, Coleoptera), and grass seeds. Occasionally emerges partially into the open near cover , presumably feeding.
Sounds and Vocal Behavior
Song a repeated, loud, fast series of vibrating notes, sounding like machine-gun "d'd'd'd'd'-ou". Call a sharp "tuk". Calls most in early morning and evening.
Trinidad and Tobago, probably Jul–Oct; Guyana, Feb–Jul with peak in May, but possibly nesting throughout year. Nest a large open bowl of roughly woven coarse dry grass and sometimes a few leaves; placed on or just above ground between clumps of savanna grass or in reeds; often near base of tree stump, sheltered by roots. External diameter c. 20 cm, depth c. 10 cm; cup diameter c. 10 cm, depth c. 5 cm. Eggs usually 2–3, possibly up to 6. No other information.
Not globally threatened (Least Concern). Race <em>olivacea</em> formerly regarded as quite common to abundant in Guyana, local in Colombia and rare in Trinidad; no information about past status of race albicollis. Apparently not uncommon in extreme SE Peru (Pampas de Heath) in 1977. Little information available on current status of species: common along littoral zone in French Guiana and probably of local occurrence in many other regions. Distribution is probably more continuous than currently thought, and range has recently (Jan 2014) been discovered to extend to lowlands of NE Ecuador (3 Kirwan, G. M., D. Brinkhuizen, D. Calderón, B., Davis, J. Minns, and I. Roesler (2014). Neotropical notebook. Neotropical Birding 15:46–62. ). Species is solitary, shy and difficult to observe.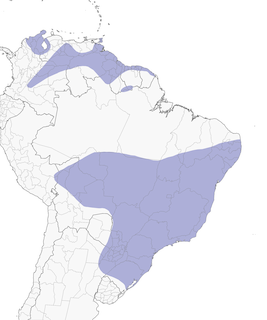 eBird and Macaulay Library
Recommended Citation
Taylor, B. and G. M. Kirwan (2020).
Ash-throated Crake
(
Mustelirallus albicollis
), version 1.0. In Birds of the World (J. del Hoyo, A. Elliott, J. Sargatal, D. A. Christie, and E. de Juana, Editors). Cornell Lab of Ornithology, Ithaca, NY, USA.
https://doi.org/10.2173/bow.astcra1.01