Jason A. Mobley
Version: 1.0 — Published March 4, 2020
Text last updated January 1, 2004
Welcome to Birds of the World!
You are currently viewing one of the free accounts available in our complimentary tour of Birds of the World. In this courtesy review, you can access all the life history articles and the multimedia galleries associated with this account.
For complete access to all accounts, a subscription is required.
Already a subscriber? Sign in
Editor's Note: This is a shorter format account, originally published in HBW Alive. Please consider contributing your expertise to update and expand this account.
The Black-and-white Becard is a reasonably widespread member of the genus, being distributed through much of the tropical Andes from Peru to Venezuela, then through the latter country's north coastal ranges, as well as in Panama and Costa Rica. It is sometimes considered to be conspecific with the Black-capped Becard (Pachyramphus marginatus), a principally Amazonian species with which the present species exhibits little or no geographical overlap, and compared to which the Black-and-white Becard is distinguished most readily by the gray (not black) back of males, and the black border to the rufous crown in females. Like most other becards, this species is not especially habitat restrictive, being able to persist in most forest types at mid elevations in the Andes and other ranges.
13–14·5 cm; 18·5–26 g. Male has glossy black crown with slight bluish sheen, contrasting sharply with almost uniformly plain grey upperparts, pale grey line on nape (sometimes lacking); side of head grey, lores blackish, broad white supraloral stripes connecting narrowly on lower forehead, narrow white broken eyering on pale dusky grey face; wings blackish, broad white margins on secondaries and wing-coverts (one or two wingbars); tail blackish, more dark grey at base, quite broad white tips on rectrices; pale grey below, throat and breast more greyish-white, especially at sides, and belly and vent more whitish; iris dark; bill blue-grey with black tip (variable); legs blue-grey. Distinguished from P. polychopterus by white supraloral stripe, grey back with contrasting black cap, lack of white scapulars. Female has prominent chestnut-brown or dull rufous crown with marked broad black margin, white supraloral spots that extend back to form broken eyering, black stripe through eye to hindcrown, pale dusky yellowish-olive face, olive-yellow or pale olive nuchal collar (sometimes lacking), more or less dark olive-green or dusky olive upperparts, olive rump sometimes with faint rufous tinge; wings blackish, broad pale buff or brighter cinnamon margins on secondaries and wing-coverts, very narrow cinnamon edging on leading edge of primaries; tail dusky cinnamon-brown above, darker below, broad cinnamon or buff tips; throat dusky yellow or whitish, breast and sides dusky yellow or pale yellowish-olive, belly and vent pale yellow, sometimes with dusky tinge. Juvenile is similar to female but duller overall, sooty-black edging on crown feathers, less distinct supraloral stripe, more greyish cheeks, no nuchal collar, less distinct cinnamon-buff wing margins. Race guayaquilensis is smaller, with very slightly more grey in tail of male; salvini male may have whiter belly and vent, female has back somewhat duller, more greyish-olive; ornatus has dull pinkish lower mandible; coronatus similar to nominate.
Editor's Note: This article requires further editing work to merge existing content into the appropriate Subspecies sections. Please bear with us while this update takes place.

See P. marginatus; molecular data (1) indicate that present species is closest to P. polychopterus. Racial identity of birds in NW Ecuador uncertain, as both guayaquilensis and salvini seem to occur there; some revision of races probably necessary. Five subspecies currently recognized.
---
SUBSPECIES
Costa Rica and W Panama (Chiriquí and Veraguas, possibly farther E).
---
SUBSPECIES
W Ecuador (W Esmeraldas and Manabí S, including Puna I, to Guayas and El Oro).
---
SUBSPECIES
N Colombia (SW slope of Santa Marta Mts, Sierra de Perijá) and extreme NW Venezuela (Sierra de Perijá).
---
SUBSPECIES
NE Colombia (E slope of E Andes from N Norte de Santander S to N Boyacá) and N Venezuela (Andes from Lara S to S Táchira, also Yaracuy and Coastal Range from Carabobo E to W Sucre).
---
SUBSPECIES
SW Colombia (E Nariño), E Ecuador (apparently also crossing to Pacific slope in Carchi and Pichincha) and NW and C Peru (Pacific lowlands S to Lambayeque and Cajamarca, also E side of C Andes from Amazonas and San Martín S to Ayacucho and Cuzco).
Editor's Note: Additional distribution information for this taxon can be found in the 'Subspecies' article above. In the future we will develop a range-wide distribution article.
Upper levels of understorey and mid-levels of canopy, and interior (occasionally borders) of humid to wet foothill and lower montane forest, tall secondary woodland, humid or deciduous woodland adjacent to primary forest; sometimes dry forest almost to sea-level in W Ecuador and NW Peru. Primarily at mid-elevations, c. 800–2300 m; occasionally lower (especially on Pacific slope) during latter half of year; and locally at 2500–2850 m or as high as 3200 m.
Insects and fruit. Singly or in pairs; regularly joins mixed-species flocks. Generally perches calmly, scanning foliage for prey, often turning head into odd positions to peer for insects. Makes short, fluttering, upward sallies, or hover-gleans food items from foliage or twigs at higher levels of canopy.
Sounds and Vocal Behavior
Typical song, by male, a fast series of whistled notes, "syoo-syoo-syoo-syoo-syoo-swee", "chew-chewy ch'chewy ch'chewy", or short and melodic warbled "t'you, t'you-duéét", with variations to "chu-chu, chu-é" or "chu-u-ré", usually rising abruptly at end and given at infrequent intervals; typical call a series of variable, high and thin "swee-sweeet" or "weeea-weeeeur" whistles; partners occasionally call back and forth. Voice in Venezuela S to Peru said to be sweet mellow "chu-u-ree", sometimes varied to "cheer, chew-a-weet"; birds from W & E Ecudor said to differ, guayaquilensis giving pleasant "tu-tu-dwít" phrase repeated three times in succession with pause between each three-phrase series, salvini a more melancholy and longer "twe, twe, tweu, tu-wít" phrase with stronger inflection on final note.
Mar–Apr in Costa Rica. Nest bulky and globular, entrance hole near bottom, composed mostly of dead leaves, with some moss, bits of vines, various plant fibres, etc., generally wedged in vertical fork near tip of trunk or tree branch 7–20 m above ground in subcanopy or forest edge. Clutch size uncertain; incubation by female, period thought to be c. 18–21 days; nestling period probably c. 20–22 days.
Not globally threatened. Uncommon to locally fairly common. Fairly common in Henri Pittier National Park, in Venezuela, and found also in Cerro Blanco Forest Reserve, Río Palenque Science Centre and Podocarpus National Park, all in Ecuador, and Northwest Peru Biosphere Reserve, in Peru.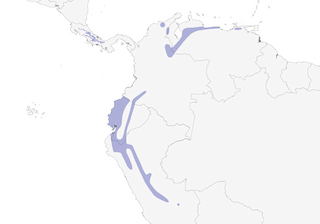 eBird and Macaulay Library
Recommended Citation
Mobley, J. A. (2020).
Black-and-white Becard
(
Pachyramphus albogriseus
), version 1.0. In Birds of the World (J. del Hoyo, A. Elliott, J. Sargatal, D. A. Christie, and E. de Juana, Editors). Cornell Lab of Ornithology, Ithaca, NY, USA.
https://doi.org/10.2173/bow.bawbec1.01