Barry Taylor and Anna Motis
Version: 1.0 — Published March 4, 2020
Text last updated March 9, 2016
Welcome to Birds of the World!
You are currently viewing one of the free accounts available in our complimentary tour of Birds of the World. In this courtesy review, you can access all the life history articles and the multimedia galleries associated with this account.
For complete access to all accounts, a subscription is required.
Already a subscriber? Sign in
Editor's Note: This is a shorter format account, originally published in HBW Alive. Please consider contributing your expertise to update and expand this account.
25–33 cm; male 126–234 (mean 185) g, female 115–265 (172) g, unsexed 130–303 (189) g; wingspan 40–52 cm. Tail relatively long; distinguished from congeners by combination of head pattern , variably spotted and barred upperparts and upperwing-coverts, rufous and blackish bars on all remiges except outer two which are barred black and white; white chin, grey throat, buff breastband (most races); barred underparts , including undertail-coverts; pink bill and pinkish-grey legs. Sexes similar; female may be slightly smaller. Immature like adult but retains worn juvenile remiges; also has narrow or obscured nuchal collar but some adults may perhaps show this feature; iris probably yellow-brown. Juvenile duller than adult; head pattern less distinct and with little chestnut; throat mottled; smaller spots, usually olive-buff, on upperparts; breastband, if present, less distinct; underparts barred grey, not grey-black; bill grey-black; iris brown. Races separated on plumage pattern, including: extent of breastband , variable even within races; darkness of upperparts; extent of spotting on upperparts ; pattern of uppertail-coverts, spotted, barred or plain; and pattern and extent of barring on underparts; also differ in lengths of wing, culmen and tarsus.
Editor's Note: This article requires further editing work to merge existing content into the appropriate Subspecies sections. Please bear with us while this update takes place.

Sometimes placed in Rallus or Gallirallus. Closely related to H. owstoni, and perhaps also to H. rovianae; probably also to extinct †H. wakensis, †H. dieffenbachii, †H. pacifica and perhaps †Cabalus modestus. Form †dieffenbachii sometimes included as a race, but now generally considered specifically distinct. Great geographical variation over huge range, with up to 26 subspecies recognized; validity of some races, e.g. tounelieri, questionable in view of individual plumage variation, minor sexual size differences, and changes due to age and wear; proposed race chandleri (from Sulawesi) subsumed within nominate, possible race wahgiensis (C highlands of New Guinea) included in reducta, and norfolkensis (Norfolk I), australis (E Australia) and some yorki (from N Queensland, Australia) in mellori, while other yorki (from islands off SE New Guinea) in tounelieri. Twenty-one extant subspecies currently recognized.
---
SUBSPECIES
---
SUBSPECIES
---
SUBSPECIES
---
SUBSPECIES
Gunungapi (NC Lesser Sundas).
---
SUBSPECIES
---
SUBSPECIES
---
SUBSPECIES
C highlands and NE coastal New Guinea, including Long I.
---
SUBSPECIES
NW Bismarck Archipelago, in Pelleluhu Atoll (Ninigo Is), Kaniet (Anchorite) Is and Hermit Is.
---
SUBSPECIES
---
SUBSPECIES
Skoki I, off SW Manus (Admiralty Is).
---
SUBSPECIES
New Hanover, Tabar Is and Tanga Is, and possibly New Ireland (Bismarck Archipelago).
---
SUBSPECIES
New Britain and Witu Is (Bismarck Archipelago).
---
SUBSPECIES
---
SUBSPECIES
S New Guinea, Australia and Norfolk I.
---
SUBSPECIES
New Zealand (including Stewart I).
---
SUBSPECIES
Coral Sea islets, from SE New Guinea archipelagos and Great Barrier Reef E to Surprise Group (off N New Caledonia).
---
SUBSPECIES
New Caledonia and Loyalty Is.
---
SUBSPECIES
---
SUBSPECIES
---
SUBSPECIES
---
SUBSPECIES
Macquarie I (recently extinct).
Editor's Note: Additional distribution information for this taxon can be found in the 'Subspecies' article above. In the future we will develop a range-wide distribution article.
Many types of wetland, including marshes, swamps, lakes, pans, rivers, streams, temporary inundations, estuaries, coastal lagoons, mangrove swamps, saltmarsh and tidal mudflats; also sewage ponds, farm dams and drainage channels. Occurs on beaches, reef flats, sandbanks and coral cays. Also found in wet to dry grass, bushed grassland, heathland, scrub, woodland, forest, and rocky and grassy uplands; in crops, pasture, gardens and parks, and on golf courses and airstrips. Favours dense, rank vegetation such as tall grass, rushes, reeds, etc.; also inhabits islands with little cover and no surface water, and may be flushed from petrel burrows. From sea-level up to 3600 m.
Regarded as sedentary throughout much of range but is widely dispersive and possibly also migratory. No autumn or winter records in much of S Australia, but present all year in N with reduced reporting rate in winter. Some evidence for migration or dispersal on Cape York and across Torres Strait; movements also suggested between islands in Coral Sea. Recorded New Zealand all months except Jul, mostly in summer. May move in response to availability of water, e.g. from dry areas to areas of high rainfall. Flies at night; sometimes hits telegraph wires, street lights and lighthouses. Vagrant to Tasmania; ephemeral populations on Lord Howe I probably derived from vagrants; vagrant to Mauritius (no details). Recently found in Borneo, where apparently population is expanding.
Worms, molluscs, crustaceans (including crabs), insects, spiders, small fish, frogs and tadpoles, eggs of birds and turtles, young of Sooty Tern (Onychoprion fuscatus), fruits, seeds, young plants and other vegetable matter; also carrion from roadkills, chicken feed, bread and grain. Feeds at all times of day and night, but mostly crepuscular. Forages on ground ; feeds at edges of reedbeds and other dense cover, among bushes and mangroves, and in pastures; scavenges along strandline; forages at rubbish dumps. Probes and pecks in mud and shallow water; captures prey by stabbing with slightly open bill; pecks at animals encrusting mangrove trunks; takes seeds from plants or ground. Pecks large snail shells until broken; spears eggs with bill. Once recorded hoarding food.
Sounds and Vocal Behavior
Repeated, squeaky, harsh "kreek" note, mostly heard in morning and evening, especially in breeding season; probably territorial. Also low-pitched growl, quiet repeated grunts (probably contact notes), and explosive hisses with deep growls when chicks threatened.
Cocos (Keeling), Jan, May, Jun; Philippines, May, Nov; Lesser Sundas, Apr, Aug, but all year on Flores; Moluccas, Jul/Aug; New Guinea, mainly in rains but also in dry season; Australia, mainly Aug–Mar, but eggs and chicks recorded all months in tropics (N Queensland); Norfolk I, Dec; New Zealand, Sept–Dec, Mar; Vanuatu, mainly Oct–Mar; Samoa, chicks Jan, Mar–Apr, Jul–Sept, but breeds all year on Apia; Niue I, Jul; Tonga, Feb, Jul. Monogamous and territorial. Nest a cup of dry grass and stems, sometimes with interwoven dead rooted stems; or roughly woven platform of grass and rushes with depression on top; sometimes with flimsy canopy of growing vegetation; external diameter 10–23 cm; platform height 17 cm; internal cavity depth 2·5–6·5 cm. Placed on or above ground (sometimes above water) in long grass, marsh vegetation or crops (oats, lucerne); also in sheltered position under bush, tree, banana leaf, or in hollow; sometimes in tree or shrub, or on sand. Usually 4–8 eggs (2–8), with larger clutches (up to 12) probably from two females laying in same nest; eggs laid at daily intervals; incubation 18–19 days, by both parents; if nest disturbed, adult may carry eggs in bill to hastily constructed nest nearby; chicks leave nest soon after hatching; fed and cared for by both parents, possibly largely by female; black downy chicks have grey eyestripe or cheek patch, black legs and bill , and brown iris; feathers begin to appear at five days; attain adult weight at three weeks; evicted by parents when 5–9 weeks old; fly at two months, when post-juvenile moult begins. Age of first breeding probably one year. In Western Samoa, chick mortality high from feral cat predation. May breed up to three times (Australia) or five times (Western Samoa) per year.
Not globally threatened (Least Concern). Race andrewsi of Cocos (Keeling) Is regarded as Endangered, and became confined to North Keeling I, with total population of c. 800 birds during 1999–2014; extirpated elsewhere by cats, rats, habitat destruction and hunting; 39 individuals reintroduced in Apr 2013 to 1 km² Horsburgh I in the southern atoll, this population increasing to c. 54 individuals by Oct 2014 and c. 121 individuals by Jun 2015 (3 Woinarski, J.C.Z., MacRae, I., Flores, T., Detto, T., Reid, J., Pink, C., Flakus, S., Misso, M., Hamilton, N., Palmer, R., Morris, K., Znidersic, L. and Hill, B. (2016). Conservation status and reintroduction of the Cocos Buff-banded Rail, Gallirallus philippensis andrewsi. Emu. 116(1): 32–40. ). Locally common in Philippines and (less so than previously) Palau Is; locally common to abundant in New Guinea. Race anachoretae considered very scarce in 1970s, due to trapping by foreign labourers; current status unknown. Common to uncommon in Australia and New Zealand, but has declined markedly in New Zealand this century as a result of habitat destruction and predation; habitat loss caused by wetland drainage, and stock grazing and trampling, but may be offset locally to some extent by the birds' use of artificial wetlands and other man-created habitats. On some islands, populations reduced or eliminated (e.g. Macquarie and probably Solander) by introduced cats, rats and G. australis; these may prevent colonization on others. In Fiji, race sethsmithi probably extirpated from Vanua Levu and Viti Levu by introduced mongooses, but thriving on Taveuni I. Locally common in Western Samoa; very common on Niue I and in some Tonga islands.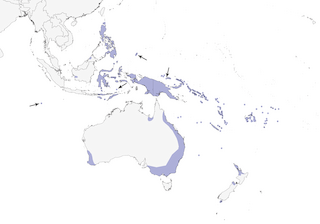 eBird and Macaulay Library
Recommended Citation
Taylor, B. and A. Motis (2020).
Buff-banded Rail
(
Gallirallus philippensis
), version 1.0. In Birds of the World (J. del Hoyo, A. Elliott, J. Sargatal, D. A. Christie, and E. de Juana, Editors). Cornell Lab of Ornithology, Ithaca, NY, USA.
https://doi.org/10.2173/bow.bubrai1.01