FAMILY
Glareolidae
Pratincoles and Coursers
David W. Winkler, Shawn M. Billerman, and Irby J. Lovette
Version: 1.0 — Published March 4, 2020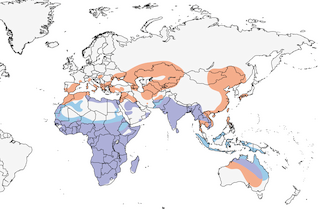 Welcome to Birds of the World!
You are currently viewing one of the free accounts available in our complimentary tour of Birds of the World. In this courtesy review, you can access all the life history articles and the multimedia galleries associated with this account.
For complete access to all accounts, a subscription is required.
Already a subscriber? Sign in
Coursers are shorebirds reminiscent of tiny bustards. Their upright posture, small head, long legs, and short toes are perfectly adapted for running through the sparsely vegetated habitats they prefer. By contrast, the pratincoles have shorter legs, partially webbed toes, a short bill with broad gape, and very long wings, making them seem like both swallows and terns in flight. They catch a large number of flying insects, but are also adept at taking prey from the ground, like their courser cousins, with the run-and-stop cadence of a plover. The plumages of both are dominated by earth tones, often punctuated with black around the face and neck.
Plumage often boldly patterned, dominated by brown, gray, rufous, buff, and black
Wings broad in coursers, long and pointed in pratincoles; tail generally short, square in coursers, forked in pratincoles
Body medium-sized, elongate ovoid; posture upright in coursers, more horizontal in pratincoles
Bill short to medium, tapered, and slightly decurved in coursers; short and broad in pratincoles, with a wide gape
Head small, flat-crowned; neck thick, medium to medium-long
Legs long in coursers, shorter in pratincoles; toes short and thick with no hallux in coursers; toes longer, with slight webbing at base of outer and middle toes, and hallux present in pratincoles
Sexes similar
Glareolids inhabit a variety of open regions, some near water, including deserts, savanna, and farmland, at elevations from sea level up to 2000 m.
The primary food of all glareolids is insects, with preference for larger insects, such as locusts, grasshoppers, and large beetles.
The coursers and pratincoles are monogamous with biparental care. The pratincoles often breed in colonies, sometimes containing hundreds of breeding pairs. The coursers typically nest as solitary pairs. Glareolids build a simple scrape on the ground in which they lay their eggs, in some species covering the eggs with soil when not incubating, presumably to conceal them from predators. Pratincoles lay 1 to 4 eggs, while most coursers lay 1 or 2 eggs. Both parents participate in nest construction, incubation, and feeding and protecting chicks. For the first few days after hatching, adult birds feed the chicks. After this, chicks are able to feed themselves, but nonetheless remain with the adults. Both pratincoles and coursers have distraction displays to lure predators away from chicks and nests, which include broken-wing displays in pratincoles, and mock-brooding in coursers.
Three of 17 species (18%) of glareolids face some conservation concern (1 NT, 1 VU, 1 CR). The critically endangered Jerdon's Courser Rhinoptilus bitorquatus, long thought to be extinct, was rediscovered in 1986, but is still rare and declining in thorny scrub forests of southern India, with an estimated population between 50 and 249 mature individuals. Other species of glareolids have declined largely as a result of habitat destruction and alteration.
Glareolidae is part of the suborder Lari, and several studies suggest it is sister to the remaining Lari save for Turnicidae (Ericson et al. 2003a, Paton & Baker 2006, Baker et al. 2007a, Fain & Houde 2007). None of these studies included Dromadidae in their sampling, and the one recent study (Pereira & Baker 2010) that did so indicated, as did the earlier work of Sibley & Ahlquist (1990), that Glareolidae is sister to Dromadidae, and that these together are sister to the rest of the Lari minus Turnicidae. The Egyptian Plover Pluvianus aegyptius was long thought to belong in Glareolidae, but several molecular phylogenetic studies have found that it represents an old lineage with no close living relatives (Baker et al. 2007a, Fain & Houde 2007) but closest affinities with Charadrii, and it is now placed within its own separate family there. Two well-defined subfamilies of coursers and pratincoles have often been recognized within Glareolidae, and they were long considered separate families. These groups would be paraphyletic, however, as the Rhinoptilus coursers appear to be sister to the rest of the family (Baker et al. 2007a).
Conservation Status
Conservation status

| | |
| --- | --- |
| Least Concern | |
| Near Threatened | |
| Vulnerable | |
| Endangered | |
| Critically Endangered | |
| Extinct in the Wild | |
| Extinct | |
| Not Evaluated | |
| Data Deficient | |
| Unknown | |
Data provided by IUCN (2020) Red List. More information
---
Related families