Alan F. Poole, Peter E. Lowther, James P. Gibbs, F. A. Reid, and Scott M. Melvin
Version: 1.0 — Published March 4, 2020
Text last updated May 6, 2009
Welcome to Birds of the World!
You are currently viewing one of the free accounts available in our complimentary tour of Birds of the World. In this courtesy review, you can access all the life history articles and the multimedia galleries associated with this account.
For complete access to all accounts, a subscription is required.
Already a subscriber? Sign in
The Least Bittern, the smallest member of the heron family, is among the most inconspicuous of North American marsh birds. Within suitable habitats, however, it is often neither shy nor rare. This colorful heron is quite vocal and can be found at surprisingly high densities-up to 15 nests per hectare. Suitable habitats include fresh and brackish water marshes with tall, dense emergent vegetation and clumps of woody plants over deep water.
Least Bitterns forage by stalking along the open-water side of emergent vegetation, grasping clumps of plants with their long toes and curved claws. They also build small foraging platforms at rich feeding sites, catching fast-moving prey, mainly small fish and insects, with their small, thin bills. An extremely narrow body permits this bittern to pass easily through tangled vegetation.
Their nest, an elevated platform with an overhead canopy, is built of emergent aquatic vegetation and sticks. Males and females appear to help equally in rearing the young. When encountered, Least Bitterns typically burrow like rodents through dense vegetation, fly away weakly over marsh vegetation with legs dangling, or "freeze" with their bill pointed upward, feathers compressed, and eyes directed forward.
Five similar subspecies are distributed throughout much of North, Central, and South America. This biography is restricted to the North American and nominate subspecies exilis. Populations north of areas with prolonged frosts are migratory; others seem to be resident. Least Bitterns are often overlooked in surveys of bird populations because the species is so secretive. Reports from birdwatchers, however, have suggested that populations are reduced over much of the species' range and extirpated in some areas. Basic research on the Least Bittern's nesting biology, movements, population dynamics, and overwintering biology would help to clarify the status of the species and facilitate its conservation.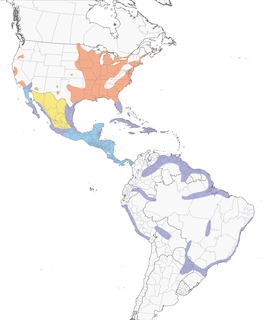 eBird and Macaulay Library
Recommended Citation
Poole, A. F., P. E. Lowther, J. P. Gibbs, F. A. Reid, and S. M. Melvin (2020).
Least Bittern
(
Ixobrychus exilis
), version 1.0. In Birds of the World (A. F. Poole, Editor). Cornell Lab of Ornithology, Ithaca, NY, USA.
https://doi.org/10.2173/bow.leabit.01