FAMILY
Monarchidae
Monarch Flycatchers
David W. Winkler, Shawn M. Billerman, and Irby J. Lovette
Version: 1.0 — Published March 4, 2020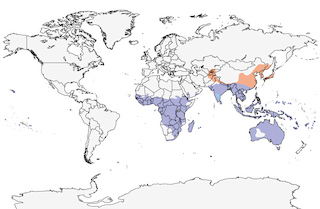 Welcome to Birds of the World!
You are currently viewing one of the free accounts available in our complimentary tour of Birds of the World. In this courtesy review, you can access all the life history articles and the multimedia galleries associated with this account.
For complete access to all accounts, a subscription is required.
Already a subscriber? Sign in
Throughout the southern half of the Old World, and on Pacific islands all the way to Hawaii, there is an array of medium-sized sallying flycatchers, with bills generally a little larger (and sometimes with a tell-tale gray-blue cast), and tails a little longer, than other flycatchers in the same woods. These are the monarch flycatchers, elegant birds with large patches of earth-tones, blue, and rarely yellow in their plumage. Many genera fan their tails, with displays of varying showiness. Even in species with the most spectacularly adorned males, both sexes take part in all aspects of parental care. Monarchids often reveal themselves to be adept acrobats when pursuing aerial prey.
Plumage typically dark above and lighter below, often with black, white, blue, reddish, and occasionally yellow, often with a slight crest
Wings medium-long and pointed; tail long to very long
Body medium-sized, ovoid, with upright posture in most
Bill slightly dorso-ventrally flattened, with slight terminal hook, often inflated slightly and light blue
Head medium to large; neck thick and short
Legs medium-short; feet small in most
Males often more brightly colored and boldly patterned
The monarch flycatchers live in a variety of forest and woodland habitats, from mangroves, to dense rainforest, to savannas.
Monarchids are insectivorous, with occasional small vertebrates and even rarely, fruits and seeds being eaten. Prey is apprehended either through gleaning from leaves and branches or through brief aerial sallying and hover-gleaning.
Most monarchids are monogamous with biparental care. Nests are small, simple, open cups usually placed in the fork of a branch. Nests are made of bark fibers, vine tendrils, grasses, spiderwebs, moss, and stems. Females lay 1 to 5 eggs, with larger clutches in the more northerly species. Both male and female participate in all aspects of parental care, including nest-building, incubation, feeding the chicks, and territory defense. Incubation takes 12 to 18 days and nestlings leave the nest 7 to 20 days (most species 12 to 16 days) post-hatch. The fledglings are fed by the parents for up to six weeks post-fledging.
Habitat loss and the introduction of non-native predators are the primary threats facing monarchids, of which 32 species (37%) are of conservation concern (13 NT, 9 VU, 5 EN, 5 CR). The Fatuhiva Monarch Pomarea whitneyi of French Polynesia, Black-chinned Monarch Monarcha boanensis of Indonesia, and the Cerulean Paradise-flycatcher Eutrichomyias rowleyi, also from Indonesia, are all island endemics for which these threats pose particular challenges, and all are listed as critically endangered. Some species of monarch flycatcher have also become extinct in recent history, including the Guam Flycatcher Myiagra freycineti, the Ua Pou Monarch Pomarea mira, and the Eiao Monarch Pomarea fluxa; all had small island populations that could not sustain the impacts of changed habitat and introduced predators.
Monarchidae is one of the "crown corvoid" families (Barker et al. 2004, Fuchs et al. 2006c, Driskell et al. 2007, Reddy & Cracraft 2007, Irestedt et al. 2008, Irestedt & Ohlson 2008, Irestedt et al. 2009b, Jønsson et al. 2008b, Norman et al. 2009, Jønsson et al. 2011). Within this group, its position is not well resolved, though it may be sister to Melampittidae (Barker et al. 2004), to Ifritidae (Norman et al. 2009), or to a clade made up of Corvidae plus Laniidae (Reddy & Cracraft 2007), either including Platylophidae (Aggerbeck et al. 2014) or without it (Jønsson et al. 2011). The genus Grallina has at times been considered its own family, though genetic evidence strongly places it within Monarchidae (Jønsson et al. 2011), where it is sometimes recognized as a distinct subfamily (e.g., Cracraft 2014).
Conservation Status
Conservation status

| | |
| --- | --- |
| Least Concern | |
| Near Threatened | |
| Vulnerable | |
| Endangered | |
| Critically Endangered | |
| Extinct in the Wild | |
| Extinct | |
| Not Evaluated | |
| Data Deficient | |
| Unknown | |
Data provided by IUCN Red List. More information