Andrew Farnsworth and Gary Langham
Version: 1.0 — Published March 4, 2020
Text last updated July 2, 2013
Welcome to Birds of the World!
You are currently viewing one of the free accounts available in our complimentary tour of Birds of the World. In this courtesy review, you can access all the life history articles and the multimedia galleries associated with this account.
For complete access to all accounts, a subscription is required.
Already a subscriber? Sign in
Editor's Note: This is a shorter format account, originally published in HBW Alive. Please consider contributing your expertise to update and expand this account.
The Ochre-naped Ground-Tyrant is a large, lanky flycatcher that breeds in Chile and Argentina in open highland habitats. An austral migrant, it migrates along the Andean chain north to Bolivia and Peru in the winter. A distinctive species, this ground-tyrant is dark gray above and whitish below with a pale yellow cap. The habits of Ochre-naped Ground-Tyrant are even more diagnostic than its appearance; the bird is strongly terrestrial and stands alert and upright when foraging, nervously fanning its tail. In flight, this ground-tyrant shows a fast, low, swooping pattern accentuated by very long wings.
18·5–20 cm. Large and long-winged ground-tyrant. Has white forehead and supercilium, pale ochre crown patch; rest of crown and upperparts pale brownish-grey; wings duskier, narrowly edged white (in fresh plumage remiges broadly tipped white); tail black, outer rectrices edged white; throat and chest greyish-white, becoming white on lower belly and vent; iris dark brown; bill long, black; legs black. Sexes alike. Juvenile has crown patch faint or absent, buff edgings in wing. Race brevirostris is darker than nominate, slightly smaller bill and wings.
Editor's Note: This article requires further editing work to merge existing content into the appropriate Subspecies sections. Please bear with us while this update takes place.

Two subspecies recognized.
Species winters N to N Peru (La Libertad) and W Bolivia.
---
SUBSPECIES
N and C Chile (Antofagasta S to Colchagua) and W Argentina (Mendoza S to Santa Cruz).
---
SUBSPECIES
S Chile and S Argentina S to Tierra del Fuego.
Editor's Note: Additional distribution information for this taxon can be found in the 'Subspecies' article above. In the future we will develop a range-wide distribution article.
Stony slopes with little vegetation, near water; puna grassland and bogs. Mostly 2000–4500 m, also breeding at 500–1000 m S of N Chile; occasionally down to sea-level in S Chile, especially during inclement weather.
Migratory; spends austral winter (Mar–Sept) farther N, into Andes of W Bolivia and Peru.
Insects. Mainly terrestrial, making short runs and hops, stopping suddenly and standing erect; less frequently, sallies from the ground or a rock; also searches in leaf litter and plants, flicking aside leaves for hidden insects.
Sounds and Vocal Behavior
Short high-pitched bursts, "tsee tee tsee tseet".
Oct–Feb; possibly double-brooded. During display, male flies high up with dangling legs, comes to a stall, then drops to ground. Nest an open cup made of grass, lined with feathers, placed in crack or cavity in rock, under stone, in rodent burrow, or directly on ground. Clutch 3 eggs, sometimes 2 or 4. No other information.
Not globally threatened. Uncommon to locally fairly common. One of the most abundant ground-tyrants in C Chile. Breeding range possibly slightly more extensive; scattered reports of potential breeders in Boliva (Oruro) and S Peru. Occurs e.g. in all national parks in Patagonian Andes; in non-breeding season also in Eduardo Avaroa National Park, in Bolivia.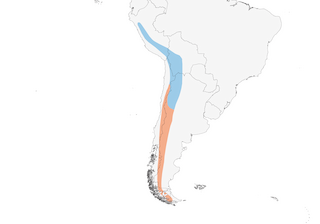 eBird and Macaulay Library
Recommended Citation
Farnsworth, A. and G. Langham (2020).
Ochre-naped Ground-Tyrant
(
Muscisaxicola flavinucha
), version 1.0. In Birds of the World (J. del Hoyo, A. Elliott, J. Sargatal, D. A. Christie, and E. de Juana, Editors). Cornell Lab of Ornithology, Ithaca, NY, USA.
https://doi.org/10.2173/bow.ongtyr1.01