SPECIES
Pinyon Jay
Gymnorhinus cyanocephalus
Kristine Johnson and Russell P. Balda
Version: 2.0 — Published March 19, 2020
Distribution
Welcome to Birds of the World!
You are currently viewing one of the free accounts available in our complimentary tour of Birds of the World. In this courtesy review, you can access all the life history articles and the multimedia galleries associated with this account.
For complete access to all accounts, a subscription is required.
Already a subscriber? Sign in
Figure 1. The Pinyon Jay is resident in central Oregon (Klamath and Lake Counties north to Jefferson County; 44 Gilligan, J., D. Rogers, M. Smith, and A. Contreras (1994). Birds of Oregon: Status and Distribution. Cinclus Publications, McMinnville, OR, USA. ); mountains and arid slopes of eastern California (Siskiyou and Modoc Counties southeast to eastern Nevada County and eastern El Dorado County south to northern Kern and eastern San Bernardino Counties), and southern California (southwestern San Bernardino and western Riverside counties [45 Garrett, K., and J. Dunn (1981). Birds of Southern California: Status and Distribution. Los Angeles Audubon Society, Los Angeles, CA, USA. , 46 Grenfell, W. E., Jr., and W. F. Laudenslayer Jr. (1983). The Distribution of California Birds. California Wildlife/Habitat Relationships Program, Publication 4. California Department of Fish and Game Bulletin and U.S. Forest Service, San Francisco and Sacramento, CA, USA. , 47 Small, A. (1994). California Birds: Their Status and Distribution. Ibis Publishing Company, Vista, CA, USA. ], though absent in San Diego County [48 Unitt, P. (2004). San Diego County Bird Atlas. Volume 39. Proceedings of the San Diego Society of Natural History. San Diego Natural History Museum/Ibis Publishing, San Diego, CA, USA. ]), northern Baja California (Sierra de Juárez and Sierra San Pedro Mártir; 49 Howell, S. N. G., and S. Webb (1995) A guide to the birds of Mexico and northern Central America. Oxford University Press, New York, New York. ), Nevada (throughout, except northwestern tier of counties; 50 Floyd, T., C. S. Elphick, G. Chisholm, K. Mack, R. G. Elston, E. M. Ammon, and J. D. Boone (2007). Atlas of the Breeding Birds of Nevada. University of Nevada Press, Reno and Las Vegas, NV, USA. ), southeastern Idaho (51 Stephens, D. A., and S. H. Sturts (1998). Idaho Bird Distribution: Mapping by Latilong. Special Publication 13. Idaho Museum of Natural History. ), Utah, northern Arizona (south to central Mohave, northern Yavapai, and northern Graham counties (52 Corman, T. E., and C. Wise-Gervais (2005). Arizona Breeding Bird Atlas. University of New Mexico Press, Albuquerque, NM, USA. ); central portions of the southern half of Montana (53 Marks, J. S., P. Hendricks, and D. Casey (2016). Birds of Montana. Buteo Books, Arrington, VA, USA. ), western and central Wyoming (54 Oakleaf, B., B. Luce, S. Ritter, and A. Cerovski (1992). Wyoming Bird and Mammal Atlas. Wyoming Game Fish Department, Lander, WY, USA. ); western South Dakota (mainly Black Hills but possibly other areas;55 Peterson, R. A. (1995). The South Dakota Breeding Bird Atlas. South Dakota Ornithologists' Union, Aberdeen, SD, USA. ); northwestern Nebraska (summers in Scotts Bluff County and Pine Ridge region, including Sioux County, but breeding has only been recently documented in Nebraska; 56 Sharpe, R. S., W. R. Silcock, and J. G. Jorgensen (2001). Pinyon Jay. In Birds of Nebraska, University of Nebraska Press, Lincoln, NE, USA. pp. 286–287. ); western and southern Colorado (east to westernmost portions of Bent and Baca counties; 57 Wickersham, L. E. (2016). The Second Colorado Breeding Bird Atlas. Colorado Bird Atlas Partnership and Colorado Parks and Wildlife, Denver, CO, USA. ), extreme western Oklahoma (Cimarron County; 58 Baumgartner, E. M., and A. M. Baumgartner (1992). Oklahoma Bird Life. University of Oklahoma Press, Norman, OK, USA. , 59 Reinking, D. L. (2004). Oklahoma Breeding Bird Atlas. University of Oklahoma Press, Norman, OK, USA. ); and portions of New Mexico west of the eastern plains (south to Mogollon and Sacramento highlands; 60 Hubbard, J. P. (1978). Revised Checklist of the Birds of New Mexico. New Mexico Ornithological Society Publication 6. New Mexico Ornithological Society, Albuquerque, NM, USA. ). Although the species is closely associated with pinyon pines (Pinus edulis, P. monophylla, P. cembroides), in most areas, individuals found in areas north of the range of these trees inhabit woodlands and scrublands with ponderosa pines (Pinus ponderosa), junipers, and various chaparral vegetation.
The species generally winters throughout the breeding range, but when the pine-cone crop fails, it may irrupt into western Oregon, southern Washington, northern Idaho, central Montana, south to southeastern California, southeastern Arizona, northern Chihuahua, northern Sonora, western and central Texas, east to western Nebraska, and western Kansas; it is casual in North Dakota, coastal California to Santa Catalina Island (also to Death Valley and the southern Salton Sea; 47 Small, A. (1994). California Birds: Their Status and Distribution. Ibis Publishing Company, Vista, CA, USA. ), and east to Iowa (eBird); a sight record exists for southwestern Saskatchewan (61 American Ornithologists' Union (1998). Check-list of North American Birds, 7th edition. American Ornithologists' Union, Washington, DC, USA. ).
Extralimital Records
No records outside North America.
Historical Changes to the Distribution
No changes to the rangewide distribution have been documented, but the consequences of vast areas of contiguous habitat destruction by government agencies probably caused major distributional shifts in 1940s–1960s before such changes were carefully documented. Following irruptions, some species may colonize new areas (62 Petterson, R. (1998). Clark's Nutcracker nesting. South Dakota Bird Notes 40:94–95. ); however, no information exists on this for the Pinyon Jay. The Town Flock first appeared in Flagstaff, Arizona, in the early 1960s.
BBS data suggest that a few populations within the Pinyon Jay range may be increasing (though these are mainly in areas of limited population size), and populations over large areas show strong declines (Figure 4). In these areas of sharp, long-term population decline, Pinyon Jays may ultimately disappear.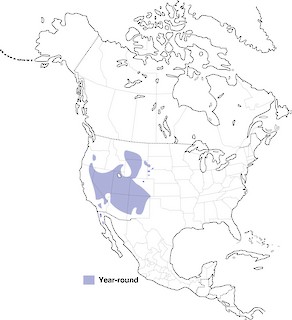 Recommended Citation
Johnson, K. and R. P. Balda (2020).
Pinyon Jay
(
Gymnorhinus cyanocephalus
), version 2.0. In Birds of the World (P. G. Rodewald and B. K. Keeney, Editors). Cornell Lab of Ornithology, Ithaca, NY, USA.
https://doi.org/10.2173/bow.pinjay.02