SPECIES
Pompadour Cotinga
Xipholena punicea
David Snow, Arnau Bonan, Sabrina Aeluro, Guy M. Kirwan, and Andrew J. Spencer
Version: 2.0 — Published July 24, 2020
Distribution
Welcome to Birds of the World!
You are currently viewing one of the free accounts available in our complimentary tour of Birds of the World. In this courtesy review, you can access all the life history articles and the multimedia galleries associated with this account.
For complete access to all accounts, a subscription is required.
Already a subscriber? Sign in
Pompadour Cotinga is the most widely distributed species of Xipholena, with its center of distribution in north-central South America (24 Haffer, J. (1970). Art-Entstehung bei einigen Waldvögeln Amazoniens. Journal für Ornithologie 111:285–331. ). It occurs from extreme eastern Colombia (Arauca, and eastern Guainía and Vaupés; 8 Hilty, S. L., and W. L. Brown (1986). A Guide to the Birds of Colombia. Princeton University Press, Princeton, NJ, USA. ) east across Venezuela (south of the Río Orinoco; 2 Hilty, S. L. (2003). Birds of Venezuela. Princeton University Press, Princeton, NJ, USA. ) to the Guianas, and northeastern Brazil (Amapá) south to central Amazonian Brazil (west to the Rio Juruá, east to western Pará, and south to southern Rondônia 25 Whittaker, A. (1996). Range extensions of some cotingas from Rondonia, Brazil. Bulletin of the British Ornithologists' Club 116:198–199. and southern Mato Grosso 26 Silva, J. M. C., and Y. Oniki (1988). Lista preliminar da avifauna da Estação Ecológica Serra das Araras, Mato Grosso, Brasil. Boletim do Museu Paraense Emílio Goeldi (Zoologia) 4(2):123–143. ) and extreme northeastern Bolivia (northern Pando, and the Serranía de Huanchaca in eastern Santa Cruz; 27 Bates, J. M., T. A. Parker, A. P. Capparella, and T. J. Davis (1992). Observations on the campo, cerrado and forest avifaunas of eastern Dpto. Santa Cruz, Bolivia, including 21 species new to the country. Bulletin of the British Ornithologists' Club 112(2):86–98. , 28 Bates, J. M., and T. A. Parker, III (1998). The avifauna of Parque Nacional Noel Kempff Mercado and surrounding areas. Pages 317–340 in A Biological Assessment of Parque Nacional Noel Kempff Mercado, Bolivia (T. J. Killeen and T. S. Schulenberg, Editors). Rapid Assessment Program Working Papers 10. Conservation International, Washington, D.C. , 29 Herzog, S. K., R. S. Terrill, A. E. Jahn, J. V. Remsen Jr., O. Maillard Z., V. H. García-Solíz, R. MacLeod, A. Maccormick, and J. Q. Vidoz (2016) Birds of Bolivia. Asociación Armonía, Santa Cruz de la Sierra, Bolivia. ). There is an apparently isolated population in northern Peru (Loreto 30 Alvarez Alonso, J., and B. M. Whitney (2003). New distributional records of birds from whitesand forests of the northern Peruvian Amazon, with implications for biogeography of northern South America. Condor 105:552–566. , 31 Shany, N., J. Díaz Alván, and J. Álvarez Alonso (2007). Finding white-sand forest specialists in Allpahuayo-Mishana Reserve, Peru. Neotropical Birding 2:60–68. ), and a single record from southeastern Ecuador (probably in Pastaza; 32 Ridgely, R. S., and P. J. Greenfield (2001b) The birds of Ecuador. Volume 1. Status, distribution, and taxonomy. Cornell University Press, Ithaca, New York. ).
Historical Changes to the Distribution
None reported.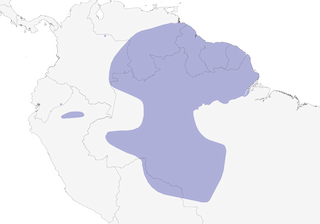 Recommended Citation
Snow, D., A. Bonan, A. Aeluro, G. M. Kirwan, and A. J. Spencer (2020).
Pompadour Cotinga
(
Xipholena punicea
), version 2.0. In Birds of the World (T. S. Schulenberg, S. M. Billerman, and B. K. Keeney, Editors). Cornell Lab of Ornithology, Ithaca, NY, USA.
https://doi.org/10.2173/bow.pomcot1.02