Peter Ryan and Richard Dean
Version: 1.0 — Published March 4, 2020
Text last updated January 17, 2013
Welcome to Birds of the World!
You are currently viewing one of the free accounts available in our complimentary tour of Birds of the World. In this courtesy review, you can access all the life history articles and the multimedia galleries associated with this account.
For complete access to all accounts, a subscription is required.
Already a subscriber? Sign in
Editor's Note: This is a shorter format account, originally published in HBW Alive. Please consider contributing your expertise to update and expand this account.
12–15 cm; male 12–21 g, female 10–18 g. A medium-large, streak-backed cisticola (streaking reduced in coastal E Africa) with fairly long graduated tail. Male nominate race breeding has warm tawny-brown crown, pale grey-brown upperparts, mantle and back with prominent broad blackish-brown streaks, rump only lightly streaked; flight-feathers dark brown with buff margins (forming buffish wingpanel ), upperwing-coverts dark brown, broadly margined rufous-buff; tail brown with darker subterminal band and buffy-grey tips, pattern less distinct on central feather pair; face rather plain, with pale grey-brown cheek and whitish lores, sometimes extending slightly above eye as short supercilium; light buffy below, whitish on throat and central belly, washed grey on flanks; iris reddish-brown; bill and mouth blackish; legs dull pink. Non-breeding male has crown more rufous and heavily streaked dark brown, more rufous-tinged upperparts and wing edgings, underparts richer buff; mouth paler. Female is somewhat smaller than male, with pale mouth. Juvenile is similar to non-breeding adult, but more buffy above, underparts washed pale yellow. Race campestris is darker above than nominate, juvenile lacks yellow wash on underparts; procerus is less heavily streaked than nominate in breeding plumage, darker above in non-breeding plumage; <em>simplex</em> breeding has warm brown crown streaked dark brown, darker grey-brown upperparts than nominate, flight-feather margins rufous-buff margins (reddish wingpanel), non-breeding more rufous above; <em>fricki</em> has more heavily streaked crown, is more rufous above and richer buff below; humilis lacks seasonal plumages, resembles previous in breeding plumage thoughout year; fischeri is like last, but colder grey above and slightly smaller; <em>victoria</em> is intermediate between previous two; ukamba is redder above; keithi is rather cold grey above in breeding plumage, in non-breeding resembles a pale version of last; mbeya is darker above in breeding plumage, with whiter underparts lacking buff wash, but darker grey flanks; <em>heterophrys</em> lacks seasonal plumages, is rather plain, with unstreaked crown, greyish upperparts with only narrow dark feather centres; emendatus is similar to previous, but has seasonal plumages, is whiter below in breeding and more rufous above in non-breeding; fortis is similar to last but larger, and darker above, with less streaking in breeding plumage, greyer below in non-breeding, size varies clinally (increasing to S); smithersi is paler above and less heavily streaked than nominate; bensoni is intermediate between previous two; frater is similar to smithersi, but more rufous above and richer buff below.
Editor's Note: This article requires further editing work to merge existing content into the appropriate Subspecies sections. Please bear with us while this update takes place.

Geographical variation complex, and many races possibly no more than clinal forms; taxonomic review needed. Proposed race huilensis (S Angola) synonymized with smithersi. N population of nominate race recently split as race vulpiniceps, supposedly having redder crown, less streaked upperparts and whiter underparts in non-breeding plumage, but not widely accepted. Seventeen subspecies normally recognized.
---
SUBSPECIES
S South Sudan, NE DRCongo and N Uganda.
---
SUBSPECIES
Eritrea, Ethiopia and N Kenya.
---
SUBSPECIES
highlands of E Uganda and W Kenya.
---
SUBSPECIES
highlands of C Kenya and N Tanzania.
---
SUBSPECIES
SW Kenya and N Tanzania (area around L Victoria).
---
SUBSPECIES
coastal Kenya and N Tanzania.
---
SUBSPECIES
---
SUBSPECIES
---
SUBSPECIES
---
SUBSPECIES
SE Tanzania, Malawi and N Mozambique.
---
SUBSPECIES
E Zambia, S Malawi and C Mozambique.
---
SUBSPECIES
Zimbabwe, interior S Mozambique, SE Botswana and South African Plateau.
---
SUBSPECIES
SE Gabon, Congo and S DRCongo S to NC Angola and Zambia (except SW and E).
---
SUBSPECIES
---
SUBSPECIES
---
SUBSPECIES
S Angola, extreme N Namibia, NW Botswana, and extreme SW Zambia and W Zimbabwe.
---
SUBSPECIES
coastal plain of S Mozambique, Swaziland and E South Africa.
Editor's Note: Additional distribution information for this taxon can be found in the 'Subspecies' article above. In the future we will develop a range-wide distribution article.
Bush clumps in savanna, dry woodland and semi-arid shrublands; also old cultivated lands, plantations and gardens; scarce in miombo (Brachystegia) woodland and absent from grassland lacking any trees or shrubs in Serengeti (Tanzania). Territory size decreases with increasing bush cover in Kenya, indicating importance of woody vegetation. In area of overlap with C. bodessa, often found in more open, sparse vegetation, and prefers flat ground. To 2000 m in NE Africa.
Resident. In Kenya, dispersing males move only 1–2 territories away.
Diet insects and small invertebrates, including beetles and weevils (Coleoptera), termite alates (Isoptera), grasshoppers and crickets (Orthoptera), flies (Diptera), ants (Hymenoptera), caterpillars (Lepidoptera) and snails (Gastropoda); also nectar of Aloe. Forages low down in grass or bushes and on ground; also hawks termite alates, returning to a perch to eat them.
Sounds and Vocal Behavior
Male song , from elevated perch, throughout year but more so in breeding season, a loud series of 1–4 notes followed by a trill, "chew chew chew ch-ch-chrrrrrrrrr" or "chi chi chi tirrreeeee", initial notes vary from musical to harsh and dry. Alarm a harsh "cheee cheee cheee"; female sometimes chatters while male sings.
Nesting in Mar–Dec N of equator and Sept–Mar in S. Usually breeds in pairs, but group-breeding in some areas. Territorial in breeding season, and probably all year in Kenya, where most territories held by groups of 3–5 birds (occasionally more in areas with denser vegetation, up to three males and five females in some groups); probably monogamous, with an "alpha" pair in group-breeding birds, "beta" males are offspring of "alpha" males in 57% of groups (some multi-male groups are coalitions of apparently unrelated individuals) and are active in territory defence and sing more than do "alpha" males. In display, singing male on bush or low tree jumps up and down and flicks tail over back; in display directed at female spreads wings and spreads and droops tail, while shivering and giving final phrase of song. Nest oval or ball-shaped, with side entrance, made of dry grass leaves, bound with spider web, lined with soft plant down, built 0·2–1·2 m above ground in grass tuft, mixed grass and shrub, fork of sapling, or in foliage of fallen branch; average territory size in Kenya 0·4–0·5 ha, varies little with group size. Clutch 2–4 eggs, rarely 5 (average 3); incubation by female only, period 13–14 days; nestling period c. 14 days; in S Malawi juveniles leave natal area before following breeding season, in Kenya some males remain on natal territory as helpers. Nests parasitized by Brown-backed Honeyguide (Prodotiscus regulus), Diederik Cuckoo (Chrysococcyx caprius) and Cuckoo Finch (Anomalospiza imberbis). Average annual survival of territory-holding males in Kenya 70% for "alpha" males and 68% for "beta" males.
Not globally threatened. Common to abundant in most of range. Occurs at densities of 1·6–3·6 birds/ha in acacia (Acacia) savanna but only 0·09–0·74 in broadleaf woodland and riverine forest in Swaziland. Similar habitat-specific differences in NE South Africa, where average 0·25 pairs/ha in acacia woodland but absent from broadleaf Burkea africana woodland in same area. Reported occurrence in Eritrea and N Ethiopia requires corroboration, because of possibility of confusion with C. bodessa.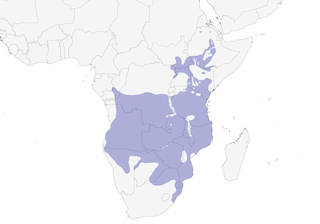 eBird and Macaulay Library
Recommended Citation
Ryan, P. and R. Dean (2020).
Rattling Cisticola
(
Cisticola chiniana
), version 1.0. In Birds of the World (J. del Hoyo, A. Elliott, J. Sargatal, D. A. Christie, and E. de Juana, Editors). Cornell Lab of Ornithology, Ithaca, NY, USA.
https://doi.org/10.2173/bow.ratcis1.01