FAMILY
David W. Winkler, Shawn M. Billerman, and Irby J. Lovette
Version: 1.0 — Published March 4, 2020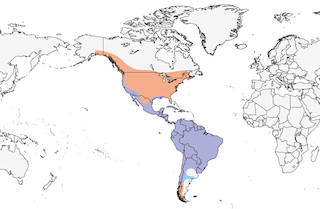 Welcome to Birds of the World!
You are currently viewing one of the free accounts available in our complimentary tour of Birds of the World. In this courtesy review, you can access all the life history articles and the multimedia galleries associated with this account.
For complete access to all accounts, a subscription is required.
Already a subscriber? Sign in
In the sugar-charged lives of the world's smallest birds, sexual selection has taken over, with males vying for mates by competing in leks or defending rich nectar resources. Hummingbirds showcase a dizzying array of plumages, almost all of which rely on odd tail plumes or the angle-sensitive iridescence of their feathers for their effect. The extreme maneuverability of these most acrobatic of birds seems to engender a lack of concern about predators, making them easy to approach near sources of food. Burning energy so fast during the day that most species cannot make it through the night on a stomach full of nectar, most go into torpor every night, even in tropical environments, to reduce energy loss.
Plumage extraordinarily varied, often with brightly contrasting iridescent patches around head and throat (the "gorget")
Wings long, narrow, pointed; tail ranging from short to much longer than the rest of the body
Body tiny, cylindrical ovoid; includes smallest bird in the world (~2 g)
Bill slender, pointed, often long, and in some strongly decurved
Legs short with small, delicate feet
Males more brightly colored and boldly patterned than females
Hummingbirds occur in a wide variety of habitats across the New World, from arid deserts, to dense tropical rainforests, to high Andean scrub near glaciers and snowfields.
Hummingbirds feed on nectar and small insects and other invertebrates. Although nectar is most important for all species, hummingbirds are remarkably effective insectivores, capturing small flying prey with their bills. The few studies available indicate that about 90% of a hummingbird's diet is composed of nectar, with 10% being small insects and other small arthropods. Nectar is required by hummingbirds to fuel their fast metabolism and maintain their body temperatures with such small body size.
Hummingbirds are polygynous, and males mate with multiple females over the course of a breeding season. Males court females either from leks or by defending a rich patch of nectar-bearing flowers, and the females tend to all aspects of parental care from nest-building on. Hummingbirds' small nests come in a variety of shapes and locations. The most typical nest is an open cup on a branch or branch-fork, but some build domed or partially domed nests, and many build pendant nests attached with spider silk to large overhanging leaves. Others build nests in niches in rock faces and cliffs. Spiderwebs are harvested and used in construction by many species, providing the adhesion to hold the nest together, and often to fasten lichens onto the outer surface of the nest as camouflage. Females typically lay 2 eggs, incubate the eggs solo for two to three weeks, and feed the chicks a diet of invertebrates and nectar until they fledge after three to six weeks.
Over 50 hummingbird species (15%) face serious conservation challenges (19 NT, 10 VU, 17 EN, 9 CR). Two species have gone extinct in the last 150 years, both Chlorostilbon species, each known only from a single specimen in the Caribbean. Another species, the Turquoise-throated Puffleg Eriocnemis godini, is known from six specimens in the 19 century and only one unconfirmed sighting near Quito in 1976. It is now feared to be extinct, and several other species in this genus are not doing much better. The Juan Fernandez Firecrown Sephanoides fernandensis, restricted to part of one tiny island off the coast of Chile, has a very small population that is declining because of continuing habitat degradation and predation by introduced mammals. All the other critically endangered taxa are pressured by continued habitat alteration coupled with very tiny endemic ranges and small population sizes.
The hummingbirds are part of the expanded Caprimulgiformes. Recent phylogenetic studies support the sister relationship between Trochilidae and the group formed by Apodidae plus Hemiprocnidae (Barrowclough et al. 2006, Ericson et al. 2006a, McGuire et al. 2007, Hackett et al. 2008, McGuire et al. 2009, Braun & Huddleston 2009). These three families have traditionally been grouped as the order Apodiformes, but here they are classified as a subset of a more inclusive Caprimulgiformes. Within Trochilidae, there are eight main clades. The topazes, Florisuginae, are sister to all other hummingbirds, and the hermits, Phaethornithinae, are sister to the remaining six clades (McGuire et al. 2007, McGuire et al. 2009, Cracraft 2013). The other major clades of hummingbirds include the mangoes (Polytminae), the coquettes and many others in Lesbiinae, and the mountain gems, emeralds, and bees, including the main North American radiation of hummingbirds, in Trochilinae (Dickinson & Remsen 2013, del Hoyo & Collar 2014). The Giant Hummingbird Patagona gigas does not belong to any of the larger clades and is designated its own subfamily, Patagoninae, sister to the Trochilinae (McGuire et al. 2007, McGuire et al. 2009).
Conservation Status
Conservation status

| | |
| --- | --- |
| Least Concern | |
| Near Threatened | |
| Vulnerable | |
| Endangered | |
| Critically Endangered | |
| Extinct in the Wild | |
| Extinct | |
| Not Evaluated | |
| Data Deficient | |
| Unknown | |
Data provided by IUCN Red List. More information
---
Related families
---
Resembles