SPECIES
West Indian Woodpecker
Melanerpes superciliaris
Robert A. Askins, Michael E. Akresh, and William K. Hayes
Version: 2.0 — Published October 29, 2020
Distribution
Welcome to Birds of the World!
You are currently viewing one of the free accounts available in our complimentary tour of Birds of the World. In this courtesy review, you can access all the life history articles and the multimedia galleries associated with this account.
For complete access to all accounts, a subscription is required.
Already a subscriber? Sign in
The West Indian Woodpecker is found on Abaco (both Great and Little Abaco), and San Salvador in The Bahamas, the island of Cuba and numerous islands off the Cuban coast, and Grand Cayman. It is absent from Cayman Brac and Little Cayman (35 Johnston, D. W. (1975a). Ecological analysis of the Cayman Island avifauna. Bull. Fla. State Mus. Biol. Sci. 19:235-295. ). The local population on Grand Bahama has apparently been extirpated, and recent records may be vagrants from the Abaco population (see Historical Changes to the Distribution).
Historical Changes to the Distribution
The Grand Bahama population is apparently extirpated. Emlen (36 Emlen, J. T. (1977) Land bird communities of Grand Bahama Island: the structure and dynamics of an avifauna. Ornithological Monographs 24. ) did not find any West Indian Woodpeckers on Grand Bahama during extensive surveys of terrestrial birds in a wide variety of habitats in 1968 and 1969, and the population was described as extirpated or apparently extirpated by White (37 White, A. W. (1998). A Birder's Guide to the Bahama Islands (Including Turks and Caicos). American Birding Association, Colorado Springs, CO, USA. ) and Raffaele et al. (38 Raffaele, H., J. Wiley, O. Garrido, A. Keith, and J. Raffaele (1998) A guide to the birds of the West Indies. Princeton University Press, Princeton, New Jersey. ), respectively. There are several recent records of West Indian Woodpeckers on Grand Bahama (39 eBird (2018). An online database of bird distribution and abundance [web application]. eBird, Ithaca, New York. Available: http://www.ebird.org. ), but these appear to be recent colonists or vagrants from Abaco. Four of these records are accompanied by photographs, all of which show birds with pale nasal tufts consistent with specimens from Abaco (WKH personal observation). Approximately half of the specimens from the original Grand Bahama population had dark nasal tufts (WKH unpublished data). There have been no records of West Indian Woodpeckers on Grand Bahama since Hurricane Dorian, a Category 5 storm, heavily damaged woodlands on the island in September 2019.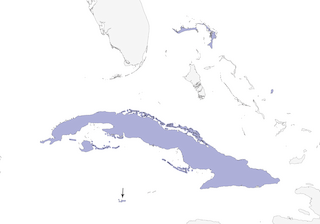 Recommended Citation
Askins, R. A., M. E. Akresh, and W. K. Hayes (2020).
West Indian Woodpecker
(
Melanerpes superciliaris
), version 2.0. In Birds of the World (T. S. Schulenberg and B. K. Keeney, Editors). Cornell Lab of Ornithology, Ithaca, NY, USA.
https://doi.org/10.2173/bow.weiwoo1.02